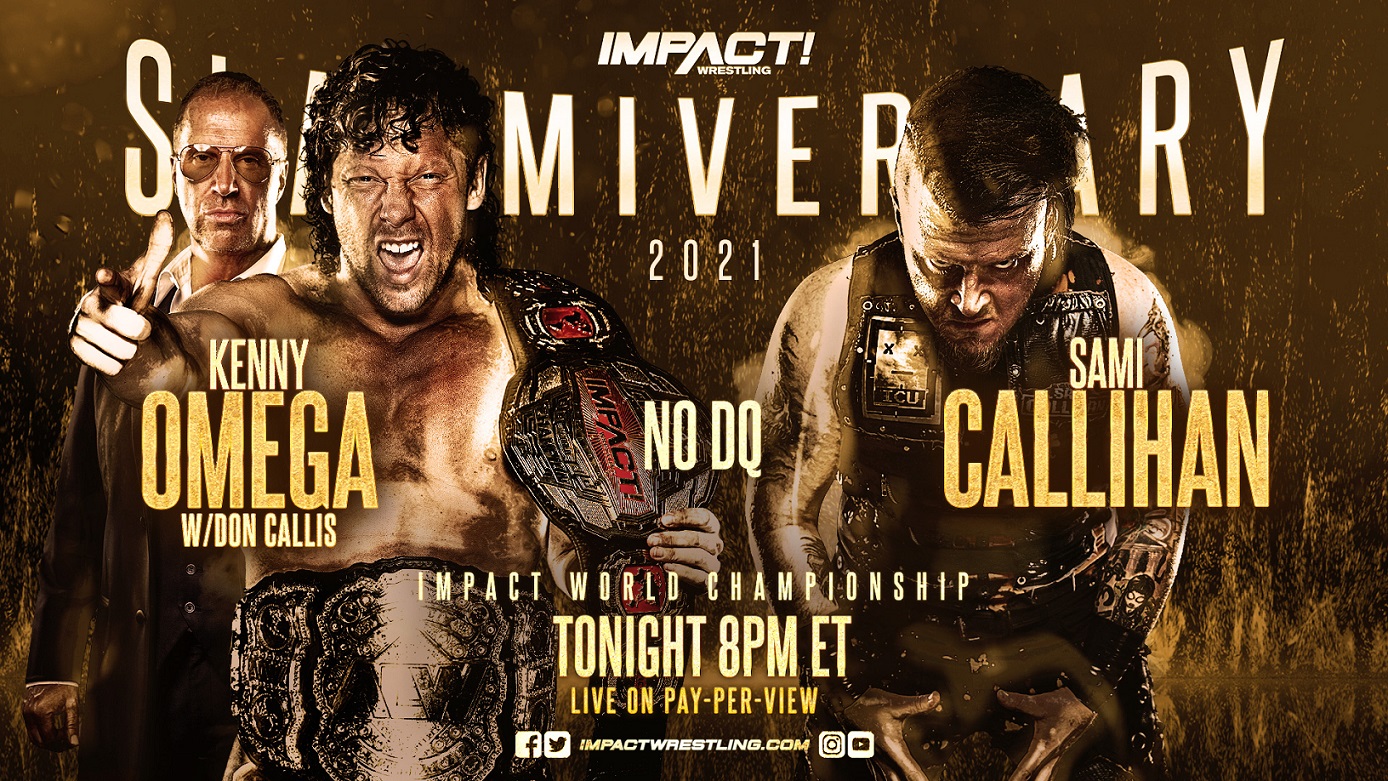 IMPACT Wrestling Slammiversary 2021 LIVE Results
Tonight, our world changes again. This is IMPACT Wrestling's biggest event of the summer, Slammiversary!
Knockouts Tag Team Champions Fire 'N Flava (Kiera Hogan & Tasha Steelz) vs Havok & Rosemary – Knockouts Tag Team Championships
The action begins on the Countdown to Slammiversary pre-show, streaming LIVE on PPV providers, FITE and IMPACT digital platforms! Havok catches Tasha in mid-air with a sit-down slam! Havok whips Rosemary into the corner. Rosemary tosses Kiera across the ring with a suplex for two. Tasha hits a sliding dropkick on Rosemary, allowing Kiera to gain control. Tasha and Kiera cut off the ring, preventing Rosemary from making the tag. Several minutes later, Rosemary creates separation, allowing her to make the tag to the newest member of Decay, Havok! Tasha soars through the air, colliding with Rosemary and Crazzy Steve on the outside! Havok fights off a sleeper from Kiera, then connects with the Tombstone Piledriver for three! Havok and Rosemary are the new Knockouts Tag Team Champions!
Havok & Rosemary def Fire 'N Flava (Kiera Hogan & Tasha Steelz) – NEW Knockouts Tag Team Champions
X-Division Champion Josh Alexander vs Chris Bey vs Ace Austin vs Trey Miguel vs Petey Williams – Ultimate X for the X-Division Championship
The X-Division Title hangs high above the ring for the return of the high-wire spectacle known as Ultimate X! Bey scales the ropes in the opening moments of the match but is quickly stopped by his opponents. Trey soars as he connects with a power slide DDT to Alexander. Ace Moonsaults from the top rope, colliding with everyone on the outside! Rohit uses a rope to climb towards the title but Petey pulls him down and hits a side Russian legsweep. Bey tries his luck once again but pays for it as Rohit spears him to the mat below! Rohit is unhooking the belt when Petey dropkicks him across the ring. Petey locks in the Sharpshooter on Trey as Rohit joins in with a Crossface. Alexander is hanging upside down from the wires when Rohit pummels him with a steel chair! Petey hits back to back Canadian Destroyers on Rohit and Trey. Alexander assists Petey with a super Canadian Destroyer to Bey!
Alexander and Bey fight over the title. Alexander sends Bey crashing to the mat and unhooks it to remain X-Division Champion!
X-Division Champion Josh Alexander def Chris Bey, Ace Austin, Trey Miguel & Petey Williams – Ultimate X for the X-Division Championship
Gia Miller interviews Don Callis ahead of Kenny Omega's IMPACT World Title No DQ match against Sami Callihan tonight. Callis says that the No DQ stipulation gives Callihan the unfair advantage.