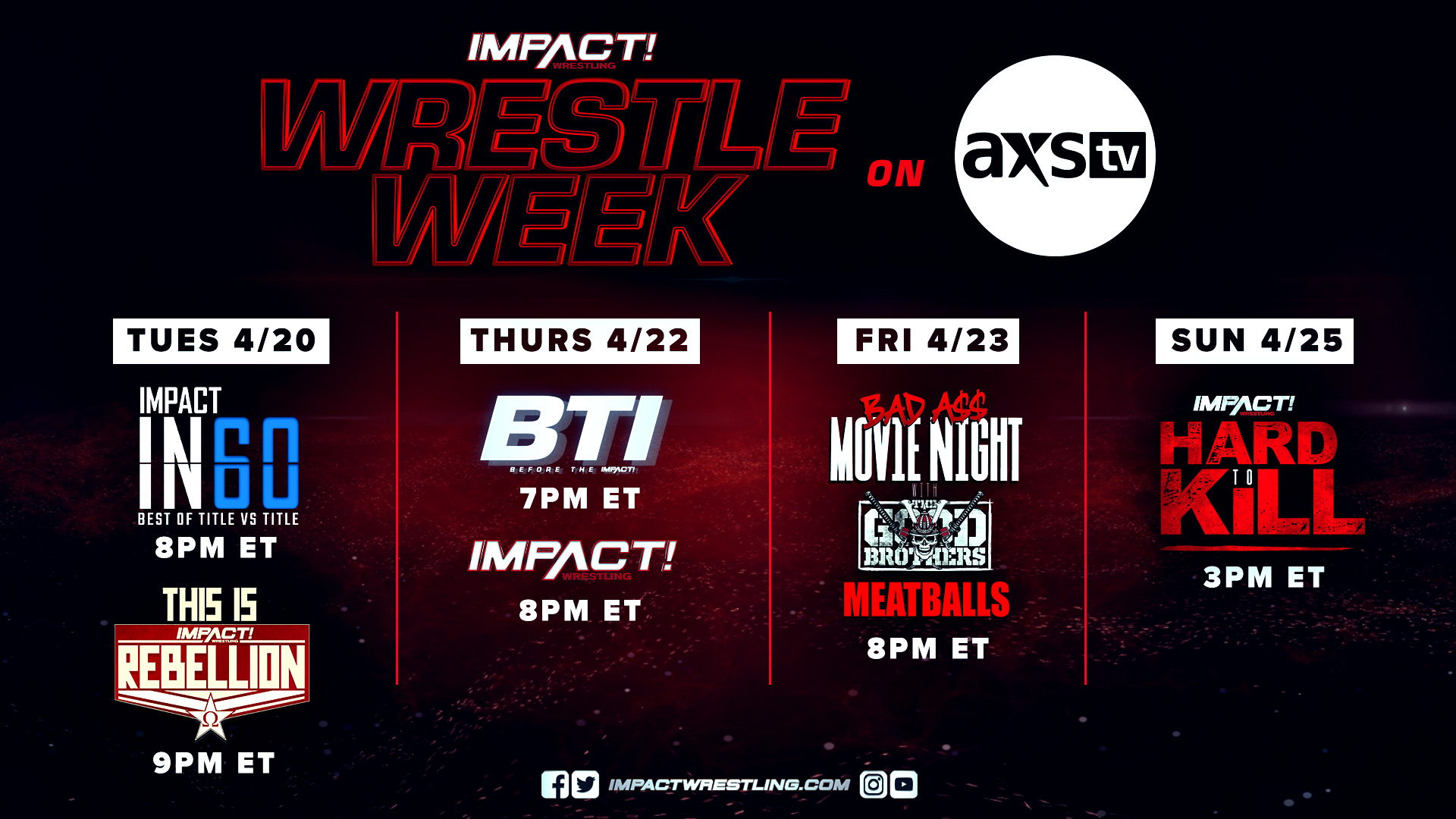 Wrestle Week Takes Over AXS TV Starting This Tuesday
AXS TV and IMPACT Wrestling bring the squared-circle home as the popular Wrestle Week On AXS TV block returns on Tuesday, April 20, with a fight card packed with in-depth profiles, classic IMPACT content, hard-hitting action, and more—giving viewers everything they need to get ready for IMPACT's REBELLION© pay-per-view event on Sunday, April 25.
Wrestle Week enters the ring on April 20 with the premiere of IMPACT In 60: Title Vs. Title at 8pE. Hosted by Scott D'Amore and Josh Mathews, the show looks back at the most iconic Title Vs. Title matches in IMPACT history, mere days before AEW World Champion Kenny Omega challenges IMPACT World Champion Rich Swann in a cross-brand Title Vs. Title fight at REBELLION©. This special edition of IMPACT In 60 features epic bouts such as Kurt Angle vs. Samoa Joe from HARD JUSTICE© 2007, Team 3D vs. Beer Money from LOCKDOWN© 2009, and many more.
The premiere of This Is REBELLION© follows at 9pE, giving viewers unprecedented backstage access with an in-depth profile covering IMPACT's world-class athletes as they prepare to do battle at REBELLION©. 
Next, on April 22 at 8pE, viewers won't want to miss a minute of the action as tensions are rising and anticipation looms amongst the locker room in the must-see final episode of IMPACT! before REBELLION©. 
Then, summer comes early on April 23 as IMPACT's resident film aficionados The Good Brothers head back to Camp North Star for a side-splitting screening of the 1979 Bill Murray comedy Meatballs in Bad A$$ Movies With The Good Brothers at 8pE.
Wrestle Week closes out on April 25 with a full day of IMPACT action, headlined by the broadcast premiere of HARD TO KILL© at 3pE. HARD TO KILL©, IMPACT Wrestling's first pay-per-view spectacular of the year from January 16, 2021, puts the spotlight on an explosive lineup featuring a star-studded six-man tag team match pitting IMPACT World Champion Rich Swann, Chris Sabin and Moose against AEW World Champion Kenny Omega and World Tag Team Champs The Good Brothers. Other highlights include Eddie Edwards and Sami Callihan in a brutal Barbed Wire Massacre match, and reigning Knockouts Champion Deonna Purrazzo puts her title on the line against Taya Valkyrie.
---
Wrestle Week on AXS TV Schedule:·
Tuesday, April 20
8 pm ET – PREMIERE: IMPACT In 60: Title Vs. Title
9 pm ET – PREMIERE: IMPACT Wrestling: This Is REBELLION©       
Thursday, April 22
7 pm ET – PREMIERE: Before the IMPACT    
8 pm ET – PREMIERE: IMPACT!     
Friday, April 23
8 pm ET – Bad A$$ Movies With The Good Brothers: Meatballs      
Sunday, April 2
3 pm ET – BROADCAST PREMIERE: HARD TO KILL© 2021