March 15, 2021
St. Petersburg, Florida (Tropicana Field)
Commentary: Tom Phillips, Byron Saxton, and Samoa Joe
Results by: Mike Tedesco of Wrestleview.com
---
Quick Match Results
Drew McIntyre defeated The Miz via The Hurt Lock
Mandy Rose & Dana Brooke defeated Naomi & Lana via flipping neckbreaker by Brooke on Lana
Raw Tag Team Championship: The New Day defeated The Hurt Business (Shelton Benjamin & Cedric Alexander) (c) via the Day Break on Alexander to become the new Tag Team Champions
Damian Priest defeated Jaxson Ryker via Hit the Lights
Shane McMahon vs. Braun Strowman never officially started
Asuka defeated Shayna Baszler via pinfall reversal as Baszler locked on the Kirifuda Clutch
WWE United States Championship: Riddle (c) defeated Mustafa Ali via Bro Derek
Non-Title Match: Bobby Lashley defeated Sheamus via spear
---
In-Ring: Bobby Lashley, MVP, The Miz, Drew McIntyre, Sheamus
We go into the WWE ThunderDome. We have a big announcement: WWE Champion Bobby Lashley will defend his championship against Drew McIntyre at WrestleMania 37.
A giant thunder and fireworks display explodes on the stage. The All Mighty WWE Champion Bobby Lashley makes his way to the ring with MVP by his side. MVP starts to speak and wants to remind everyone that Lashley is the All Mighty champion.
The Miz makes his way to the ring with John Morrison. Miz is dressed to compete. Miz talks about how 16 years is a long time to become champion and congratulates Lashley, but he works equally as hard. Miz is asking for a rematch, saying that he and Lashley would be WWE's next big rivalry.
Drew McIntyre, Lashley's opponent at WrestleMania, makes his way to the ring. McIntyre also congratulates Lashley, but he says he's coming to get his championship back. Miz reminds McIntyre that he has to worry about him tonight as they are having a match. McIntyre gives Miz an option to attack him now or during the match. McIntyre says he isn't worried about Miz and turns his attention to Lashley, calling him a "bald bitch."
Lashley angrily attacks McIntyre. Miz and Morrison avoid any action. After Lashley lays McIntyre out, Miz and Morrison get some cheap shots in. As Lashley goes up the ramp, Sheamus blindsides him and attacks him. Referees pull Sheamus off the WWE Champion.
---
Backstage: Sheamus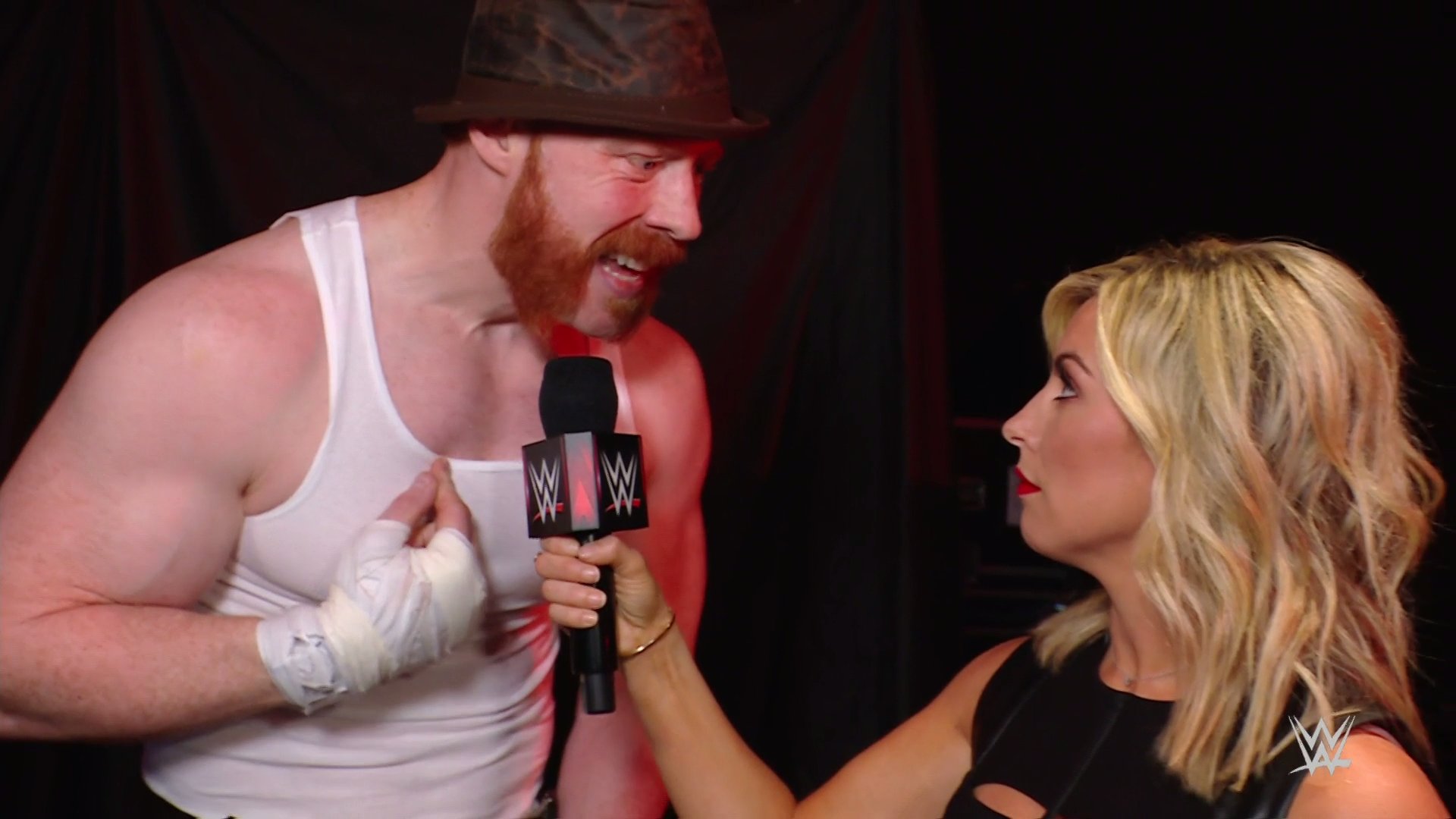 Sarah Schreiber is backstage with Sheamus. Sheamus wants a match against Bobby Lashley tonight. Sheamus says he will beat Drew McIntyre at WWE Fastlane and should be the one facing Lashley at WrestleMania.
---
The Miz vs. Drew McIntyre
McIntyre is still recovering from the attack, but he tells the referee to start the match. Miz attacks McIntyre at the sound of the bell. McIntyre quickly powers Miz into the corner and chops the chest. McIntyre bounces Miz off the top turnbuckle and punches him down in the corner. McIntyre again chops the chest and hits a release suplex. Miz gets to his feet and quickly gives McIntyre a back elbow. Miz kicks him in the face, but that just angers McIntyre. Miz hits the ropes, and McIntyre lays him out with a Glasgow Kiss. McIntyre punches him and connects with a short-arm clothesline. McIntyre then stretches Miz on the bottom rope and applies a crossface. Miz falls out of the ring after McIntyre releases him. McIntyre goes outside, grabs Miz by the seat of his pants, and drives him into the barricade. McIntyre chops the chest and puts Miz in the ring. The referee checks on The Miz, so Morrison grabs McIntyre's boots. McIntyre doesn't trip. The referee admonishes Morrison. Morrison throws his sunglasses at McIntyre, so McIntyre stomps on them. Miz then attacks McIntyre from behind and shoulders away at him in the corner. Miz backs up, but McIntyre pops out of the corner with a big clothesline. McIntyre puts Miz in the corner, blocks a boot, and hits a reverse Alabama Slam. McIntyre sets up for a Claymore Kick, but Morrison pulls Miz out of the ring. The referee ejects Morrison from ringside.
We come back from the break to see McIntyre send Miz into the corner and scoop him up. Miz slides off and hits a kneeling DDT, but McIntyre kicks out at one. Miz sets up for the Skull Crushing Finale, but McIntyre gets out. McIntyre hits a pair of clotheslines followed by a pair of overhead belly-to-belly suplexes. McIntyre connects with a neckbreaker before kipping up. McIntyre gets Miz out of the ring and drives him into the barricade and ring apron a few times. McIntyre gets in the ring to break the count-out. McIntyre goes outside and viciously slams Miz' face off the steps a bunch of times. McIntyre gets Miz in the ring and hits a Future Shock DDT. McIntyre hits a Claymore Kick on Miz, but doesn't cover. McIntyre points to the WrestleMania sign and puts Lashley's Hurt Lock on The Miz to tap him out!
Winner by Submission: Drew McIntyre
McIntyre stands on the back of The Miz and raises his arms.
---
Backstage: Damian Priest, Bad Bunny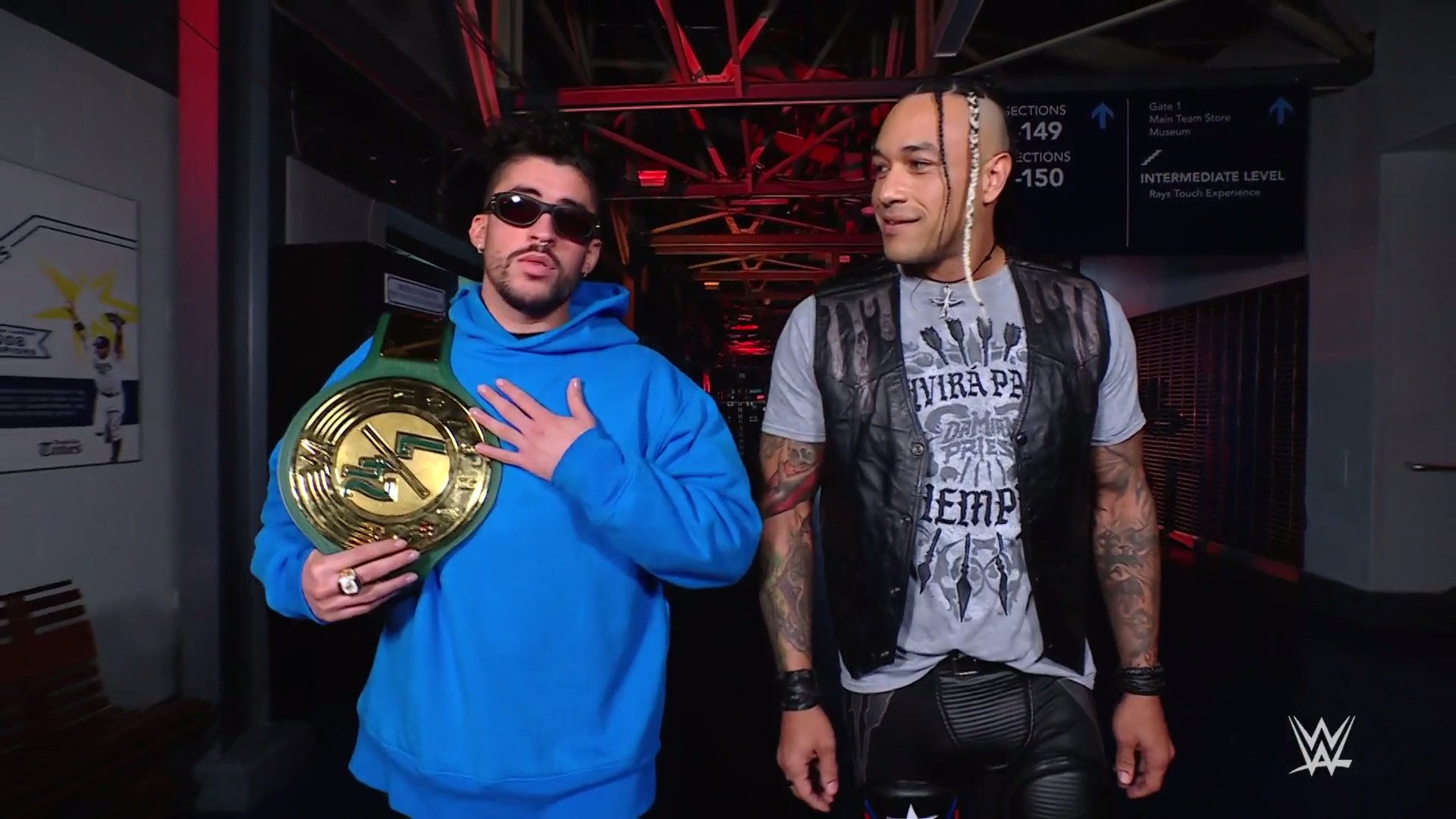 WWE congratulates WWE 24/7 Champion Bad Bunny on winning a Grammy for Best Latin Pop Album at the 2021 Grammy Awards.
Damian Priest is walking backstage with WWE 24/7 Champion Bad Bunny.
---
In-Ring: Braun Strowman, Shane McMahon
We come back from the break to see Braun Strowman finishing up a sentence.
Shane McMahon comes out to the stage. McMahon has no idea what Strowman's problem is with him. Last week, Strowman wanted an apology and now he doesn't know what he wants. Strowman says he's been bullied his whole like by guys like McMahon. Just because McMahon went to an Ivy League school doesn't make him smarter. McMahon says that's disgusting. He would never make fun of another human being. Strowman says McMahon apologized to him, but they both know McMahons don't apologize for anything. Strowman says McMahon was scared and wrote a check his ass couldn't catch.
McMahon insinuates Strowman is unintelligent and doesn't understand what he means. Strowman says McMahon is afraid of what he'll do to him. McMahon doesn't have the balls to ask for a match, so Strowman will. Strowman wants a match against McMahon tonight. McMahon says Strowman couldn't handle him. Now he knows Strowman is stupid. McMahon stutters on his words as he calls Strowman stupid. Strowman demands an answer, so McMahon agrees to the match.
---
Backstage: R-Truth
Mandy Rose and Dana Brooke are backstage with Naomi and Lana. R-Truth walks up dressed as "Stone Cold" Steve Austin. R-Truth thinks it's March 16 (3:16 Day), but it's really only March 15. R-Truth drinks a beer and walks off.
---
Mandy Rose & Dana Brooke vs. Naomi & Lana
Nia Jax & Shayna Baszler are on commentary.
Naomi starts against Dana Brooke. Brooke takes her down, but Naomi soon knocks her back. Mandy Rose tags in. Naomi punches Brooke down and charges Rose. Rose grabs Naomi and hits a fallaway slam. Rose stomps Naomi down in the corner and tags Brooke back in. Brooke hits a handspring back elbow before hitting a snapmare. Rose tags in and hits a running boot for a two count. Rose forearms Naomi in the corner and hits a scoop slam. Brooke tags in and hits a handspring splash for a two count. Brooke applies a chin lock, but Naomi soon fights up. Naomi flips through a back suplex and hits a jawbreaker.
Lana and Rose tag in. Lana hits a head-scissor into a side leg sweep. Lana takes Rose down twice and splashes her against the ropes. Lana hits a neckbreaker, but Brooke breaks it up. Naomi runs in, but Rose and Brooke hit a double-team flapjack. Rose kicks Lana down and hits a suplex.
All of a sudden, Raw Women's Champion Asuka makes her way to the ringside area. Shayna Baszler gets up from commentary. Baszler goes to attack Asuka, but Asuka takes her down and punches away at her. Producers pull them apart.
In the ring, Rose rolls Lana up for a two count. Brooke tags in, but Lana doesn't realize. Lana hits a sit-out facebuster. As she gets up, Brooke hits a flipping neckbreaker for the win.
Winners by Pinfall: Mandy Rose and Dana Brooke
---
Backstage: The New Day, Riddle
Doing their best @Noizey_Man impression!@SuperKingofBros@TrueKofi@AustinCreedWins#WWERaw pic.twitter.com/nggSRZR6V3

— WWE Universe (@WWEUniverse) March 16, 2021
The New Day are backstage when WWE United States Champion Riddle comes up to them on his scooter. The New Day says tonight is all about them reclaiming their spot on the mountain top. They can all ride off together as champions when Riddle takes Mustafa Ali out. Riddle suggests they get matching tattoos and eat all you can eat pancakes. They're not big on the tattoos, so Riddle suggests matching scooters. The New Day is pumped up.
---
Raw Tag Team Championship
The Hurt Business (Shelton Benjamin & Cedric Alexander) (c) vs. The New Day
Xavier Woods will start against Cedric Alexander. They circle the ring, and Alexander quickly takes him down. Woods quickly grabs the face, so Alexander gets to his feet. Woods applies a side headlock, but Alexander twists out. Woods fights back and hooks another side headlock. Alexander again twists out, hits the ropes, and shoulder blocks him down. Alexander poses and hits the ropes, but Woods drops down and leapfrogs him before going for a German Suplex. Alexander fights it and goes for a German Suplex, but Woods fights it and rolls him up for a two count. Woods takes Alexander down and applies an arm bar. Woods whips Alexander to the corner and tags Kofi Kingston in. Kingston hits a big uppercut to Alexander. Alexander connects with a kick, but Kingston rolls him up with a scissor for a two count. Alexander takes Kingston down. Shelton Benjamin tags in. Alexander hits a monkey flip on Kingston into a spinebuster from Benjamin for a two count!
Benjamin takes Kingston down and knees Woods in the face. Benjamin connects with a pair of scoop slams followed by a knee to the midsection. Alexander knees Kingston in the face. Outside the ring, Benjamin throws Woods into the ring steps. Alexander chops Kingston and tags Benjamin back in. Benjamin elbows Kingston and Alexander follows up with a dropkick for a two count. Alexander tags in and shoulders Kingston in the corner. Alexander puts Kingston on the top rope and attacks him. Kingston knocks him back and hits a double stomp to the chest!
Woods tags in and knocks Benjamin off the apron. Woods takes Alexander down and thwarts some interference from Benjamin. Woods puts Alexander on the ropes and splashes him. Woods knees Alexander and elbows him down. Kingston and Woods go for a baseball slide/suicide dive combo, but The Hurt Business cuts them off!
We come back from the break to see Woods and Alexander trading punches. They follow each other into the ropes and attack each other a few times. Alexander finally knees Woods and talks some trash. Alexander hits a beautiful Michinoku Driver for a near fall. Woods slowly gets to his feet and stuns Alexander with a superkick.
Kingston and Benjamin tag in. Benjamin cuts off Kingston's hot tag and kicks him down for a two count! Kingston comes back with a hurricanrana and a double stomp for a near fall. Kingston hits the ropes, but Benjamin hits a flapjack. Kingston quickly fights back with an SOS for a near fall. Benjamin hits a top rope belly-to-belly suplex. Woods runs in and knocks Alexander out of the ring. Woods hits a snap DDT on the floor. Kingston hits Benjamin with Trouble in Paradise before tagging Woods in. Kingston hits Alexander with a trust fall. Woods hits a top rope elbow drop. Kingston tags in, and they hit Day Break for the win!
Winners by Pinfall and new Raw Tag Team Champions: The New Day
This is the 11th Tag Team Championship reign for The New Day!
In-Ring: The New Day, AJ Styles, Omos
AJ Styles and Omos make their way to the ring. The new Raw Tag Team Champions stand in the ring and look curious. Styles says they're out here to congratulate them on another Tag Team Title victory. How many times has it been? Styles actually doesn't care. This is just in time for WrestleMania. Styles and Omos currently don't have anything planned for WrestleMania. Styles has been WWE Champion, Intercontinental Champion, United States Champion, and fought Undertaker at WrestleMania. His bucket list is getting low. Omos had a great idea. Omos says they should be Raw Tag Team Champions. Styles loves that idea. Woods says they're not a tag team. Styles says they're a tag team now. Jaws will drop when they see what Omos is capable of. Styles realizes that Woods knows what Omos is capable of. Omos slammed Woods over the barricade a few weeks ago.
Styles says they're challenging New Day for the Raw Tag Team Championship at WrestleMania. Kingston asks if they're registered as a tag team. Do they know how to work as a team? Woods says if they want the match, they've got it!
---
Backstage: The Miz, John Morrison, Damian Priest, Bad Bunny, R-Truth
The Miz is walking backstage with John Morrison. They bump into Damian Priest and WWE 24/7 Champion Bad Bunny. Priest and Bunny say Miz has been looking awful since he lost the title. Bunny forgot Miz was the WWE Champion. Miz says he may not be WWE Champion anymore. Morrison says he's still The Miz. Miz says he's better than Bad Bunny and all of his accomplishments. Priest is off to a great start, but what has Priest done? Priest says it'll take a minute to accumulate his accomplishments, so maybe he'll start right now. Miz looks intimidated and walks off.
R-Truth looks like he's going to sneak up on Bad Bunny, but Priest catches him. R-Truth says he's here to give gifts. R-Truth plugs all the "Stone Cold" Steve Austin merchandise and gives a Broken Skull championship. Bad Bunny looks happy, but wants to know what R-Truth wants. R-Truth says he wants the 24/7 Championship. Bad Bunny speaks to Priest. Bunny says he respects R-Truth and hits business. R-Truth deserves this more than him. Bad Bunny says he'll keep the Smoking Skull Championship and hands R-Truth the 24/7 Championship. R-Truth correctly says Bad Bunny's name before running away from the 24/7 jobbers.
New 24/7 Champion: R-Truth
---
Jaxson Ryker vs. Damian Priest
Ryker quickly attacks Priest at the sound of the bell. Priest quickly fights back with the Broken Arrow followed by Hit the Lights for the win.
Winner by Pinfall: Damian Priest
Elias immediately attacks Priest from behind and stomps away at him. Elias goes outside the ring and grabs his guitar. Bad Bunny runs into the ring and grabs the guitar. Elias scoops Bunny up, but Bunny slides off and punches him. Priest then claps Elias' ears and hits Hit the Lights. Priest and Bunny celebrate.
John Morrison comes out taunting Priest and Bunny. The Miz hits Bunny in the back with Elias' guitar, but the cameras totally miss it! Miz runs away. Replays show Miz hitting Bunny with the guitar. Priest says they started something big.
---
Backstage: Bobby Lashley, MVP
Sarah Schreiber is backstage with WWE Champion Bobby Lashley and MVP. MVP says The All Mighty Era has begun. He'll be damned if Sheamus will blindside Bobby Lashley and embarrass him. Sheamus didn't want Drew McIntyre to be 100% at Fastlane. Now Sheamus won't be 100%. MVP guarantees what happens to Sheamus will be the same thing that happens to Drew McIntyre at WrestleMania.
---
Shane McMahon vs. Braun Strowman
McMahon gets out of the ring as Strowman gets inside. McMahon says he just needs a second and wants to warm up. McMahon runs up the steps, some push ups, and jumping jacks. McMahon mentions that Strowman talked about being bullied and does hopscotch. A hopscotch rug is ridiculously set up at ringside.
Strowman angrily chases McMahon and manages to catch him. Strowman sends McMahon into the barricade, punches him, and kicks him hard in the chest. Strowman talks some trash. This match has not started yet. Strowman runs around the ring for his Strowman Express, but McMahon wipes him out with a camera to the face! McMahon hits Strowman again and kicks him. McMahon hits him a few times with the camera and gets him on the commentary table before getting in the ring and going to the top rope. McMahon then hits Strowman with a Leap of Faith elbow through the table!
McMahon grabs Strowman's head and shouts that he is stupid. McMahon goes under the ring and grabs a bucket. McMahon then pours what looks like green paint or slime from some Nickelodeon show from the mid-1990s. McMahon grabs another bucket and does it again. McMahon shouts for Strowman to never challenge him again and punches him in the face. McMahon walks off. Strowman gets up and says he'll rip him in half.
Match never officially started
---
Video: Rhea Ripley
Rhea Ripley is coming to WWE Raw.
---
Backstage: Alexa Bliss
Footage is shown of Randy Orton throwing up black slime last week on WWE Raw.
Alexa Bliss is on a swing set backstage. Randy Orton will have a chance to take her out this Sunday at WWE Fastlane.
---
Asuka vs. Shayna Baszler
Footage is shown of Shayna Baszler kicking Asuka's tooth out a few weeks ago.
Asuka attacks Shayna Baszler before the match begins. Asuka then hits Nia Jax with a double knee facebuster and kicks her out of the ring.
The match officially begins. Asuka attacks Baszler with a hip attack and a snap suplex. Asuka hits Jax with a hip attack to knock her off the apron. Asuka knocks Baszler back and misses a hip attack. Baszler knees Asuka in the face and punches away at her. Asuka quickly takes her down and goes for an arm bar, but she lets go to knock Jax off the apron. Baszler goes for a Kirifuda Clutch, but Asuka kicks back and pins her. Baszler never let go of the Kirifuda Clutch.
Winner by Pinfall: Raw Women's Champion Asuka
Baszler goes to kick Asuka in the face, but Asuka blocks it and takes her down. Asuka takes her out and kicks her in the head. Asuka then kicks Baszler's head into the turnbuckle. Asuka removes the bottom turnbuckle pad and puts Baszler's mouth on the exposed turnbuckle before driving her face into it with her boot. Asuka goes to kick Baszler's head into the exposed turnbuckle, but the referee stops it.
---
The commentators run down the WWE Fastlane card. Braun Strowman will battle Shane McMahon on Sunday.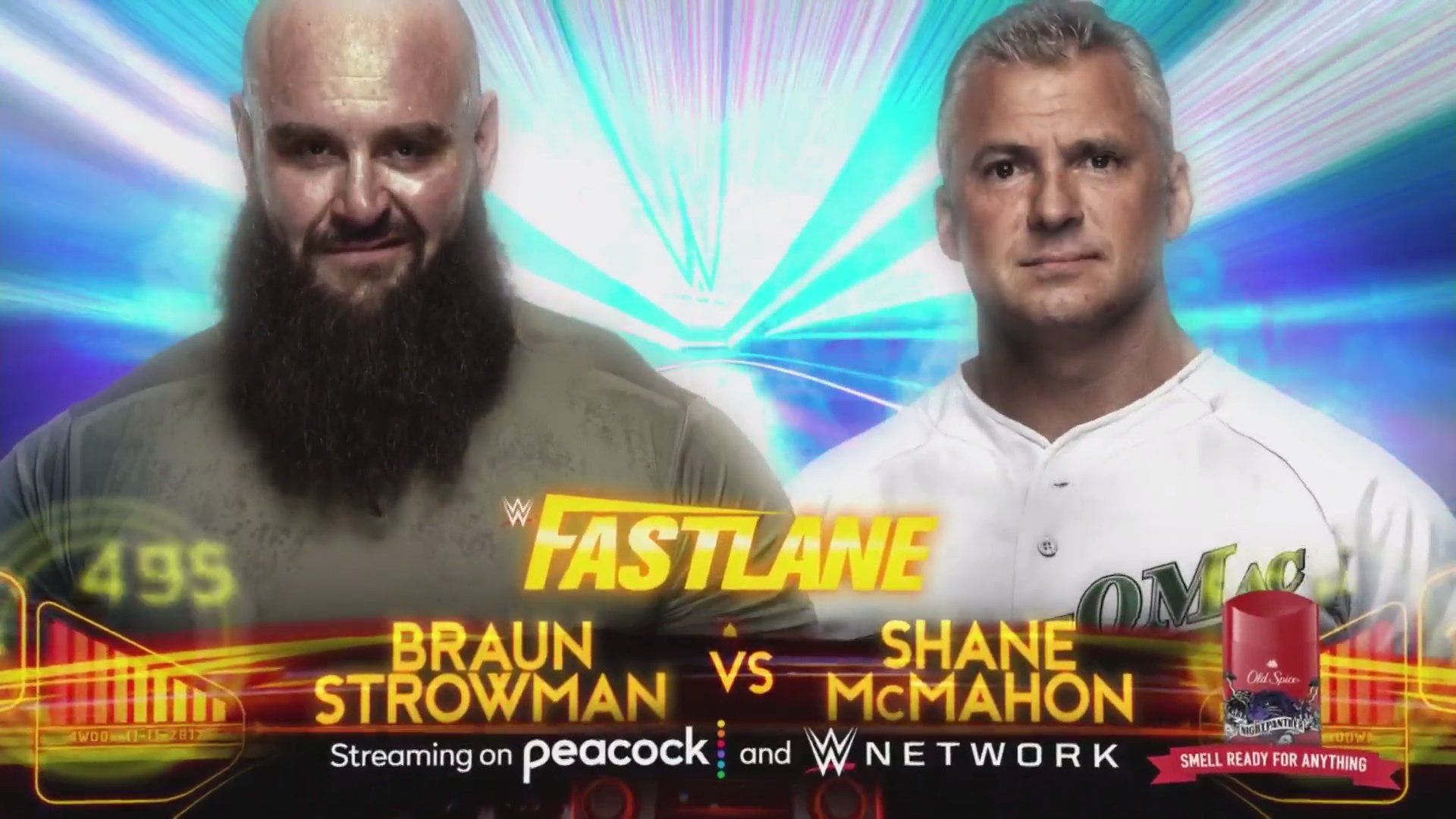 ---
WWE United States Championship
Riddle (c) vs. Mustafa Ali
Mustafa Ali is admonishing RETRIBUTION backstage when Riddle drives by on the scooter.
After commercials, Ali attacks Riddle at the start, but Riddle quickly comes back with a gutwrench suplex. Riddle kicks Ali out of the ring. Riddle goes to grab Ali, but Ali pulls Riddle into the commentary table. Ali kicks Riddle as he gets in the ring and goes to clothesline him over the top rope, but Riddle counters. They fight on the apron before Ali hits a wild neckbreaker off the apron to the floor!
We come back from the break to see Ali uppercutting Riddle. Ali continues to attack the neck and hits a neckbreaker for a near fall. Ali applies a chin lock and rolls him up, but Riddle rolls through and kicks him. Riddle punches and kicks Ali back before hitting a Pelé Kick. Riddle hits a running forearm in the corner followed by an exploder, a broton, and a fisherman's brainbuster for a near fall. Riddle sets up for a Final Flash, but Ali counters into a wheel kick. T-Bar gets on the apron and distracts, but Ali rolls Riddle up. Ali would have had Riddle there. Riddle then hits Ali with Bro Derek for the win.
Winner by Pinfall and still WWE United States Champion: Riddle
Ali is furious with T-Bar and RETRIBUTION following the match.
---
Backstage: Randy Orton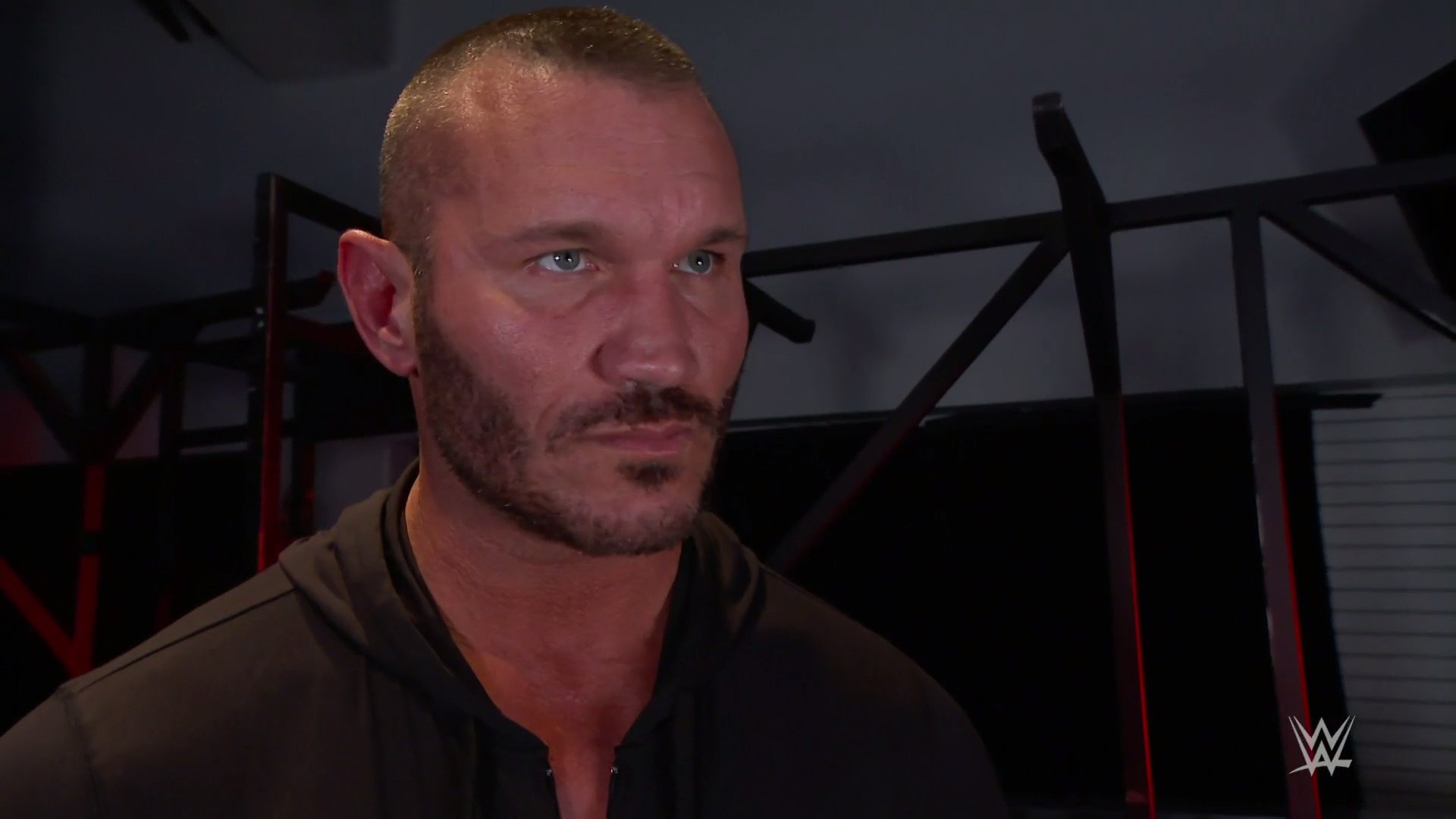 Sarah Schreiber asks Randy Orton for a reaction to Alexa Bliss' challenge to a match at WWE Fastlane on Sunday. Orton says he heard Bliss dare him to kick her out of his life. Orton says that's exactly what he's going to do.
---
WrestleMania Tickets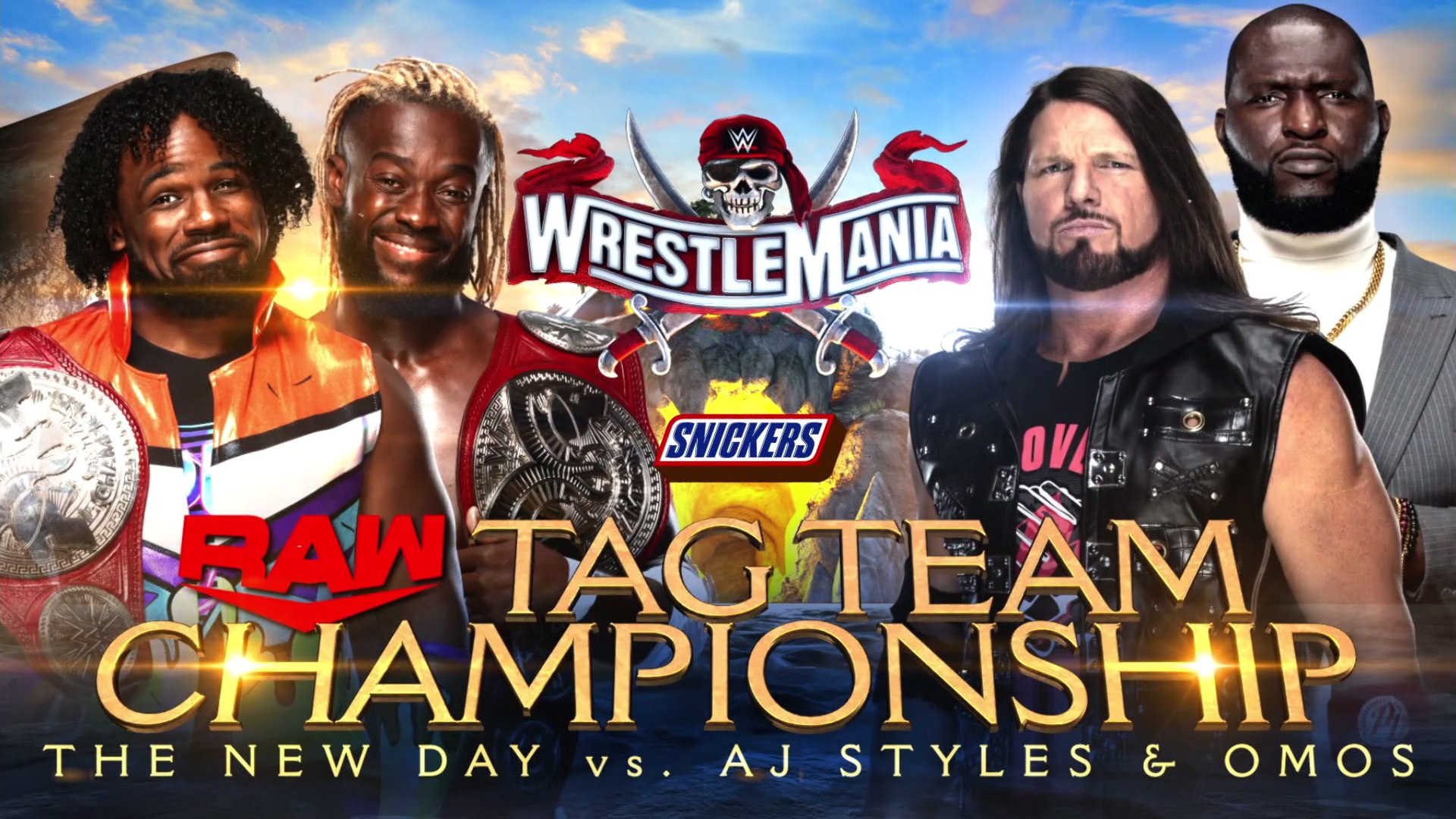 The commentators say information on WrestleMania tickets will be finalized in the next week. They were supposed to go on sale this week.
It's official: The New Day will defend the Raw Tag Team Championship against AJ Styles and Omos at WrestleMania 37.
---
In-Ring: Drew McIntyre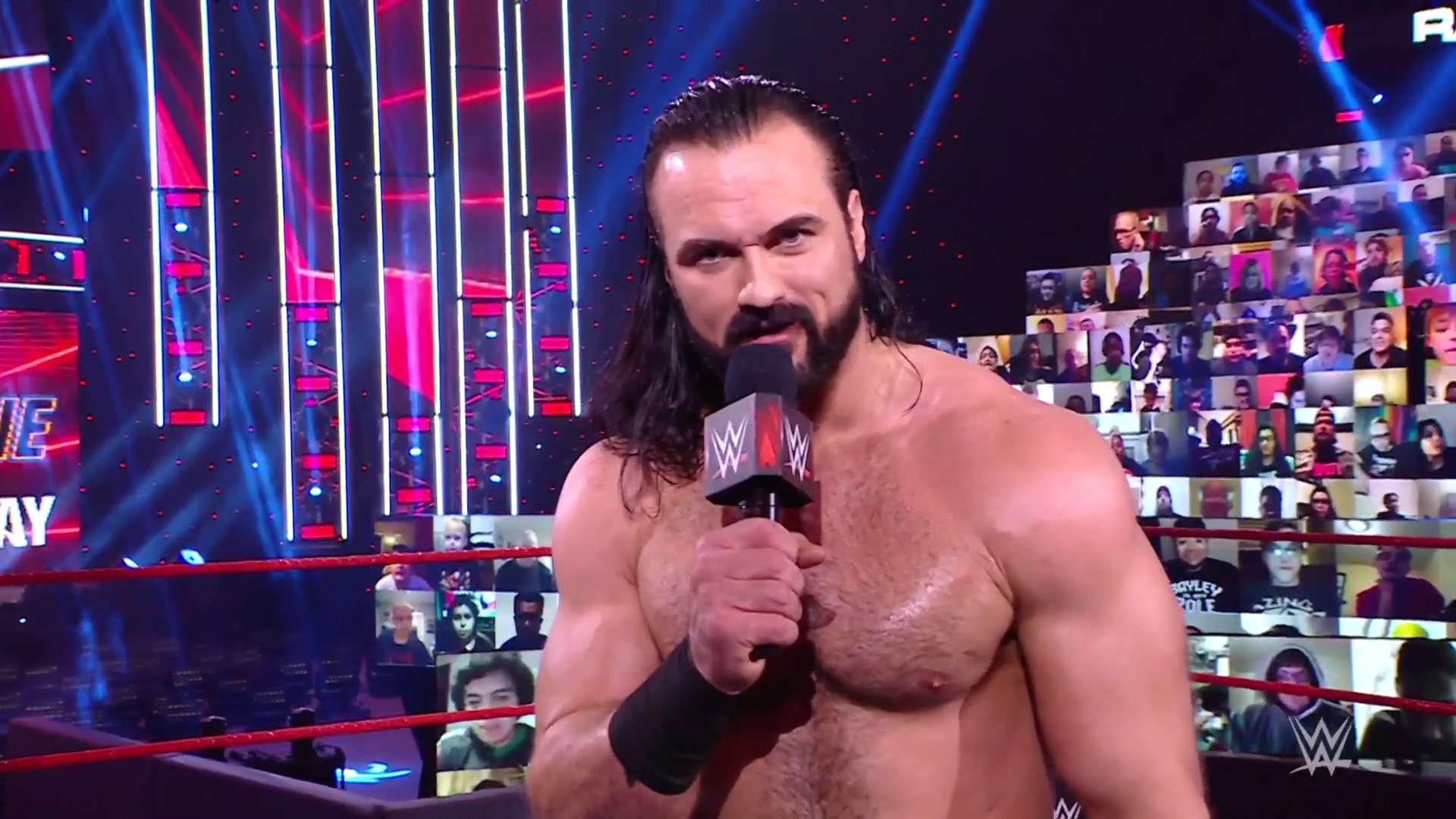 Drew McIntyre is in the ring. McIntyre is excited to be going for the WWE Championship again, but he has to get through Sheamus first. This Sunday, they'll bring a level of physicality that has never been seen before. As for now, he's going to sit back and watch Bobby Lashley take on Sheamus.
---
Non-Title Match
Bobby Lashley vs. Sheamus
The bell rings, and Lashley powers Sheamus to the corner and punches him. The referee backs Lashley up. Sheamus puts Lashley in the corner and punches him. The referee backs Sheamus up, so Lashley slams him down and punches away at him. Lashley digs a forearm into Sheamus' face before applying a chin lock. Lashley sends Sheamus to the corner, but runs into a back elbow. Sheamus hits the ropes, but Lashley leapfrogs him and connects with a clothesline. Lashley stares at McIntyre and goes for a suplex on Sheamus, but Sheamus lands on his feet and chop blocks Lashley. Sheamus rips at the face and elbows away at him. Sheamus gets him to his feet, but Lashley elbows him. Lashley hits a suplex and knocks Sheamus out of the ring. Lashley goes outside and sends Sheamus into the ring post. Sheamus kicks Lashley getting back in the ring and does the 10 Beats of the Bodhrán. Sheamus knocks him to ringside. Lashley catches Sheamus leaping off the apron and hits a suplex on the floor!
We come back from the break to see Lashley applying a chin lock to Sheamus and ripping at his ear. Lashley jumps on Sheamus' back and throws him out of the ring. Lashley drives Sheamus into the barricade and puts him in the ring. Lashley beats Sheamus down in the corner. Lashley backs up and runs through Sheamus with a shoulder to the midsection. Drew McIntyre gives him a sarcastic thumbs up from ringside. Lashley goes for another one, but Sheamus sidesteps him and sends him into the ring post hard! Yikes!
Sheamus hits an arm breaker at ringside. Sheamus gets Lashley in the ring and goes to the top rope. Sheamus connects with a diving clothesline for a one count. Lashley fights up and forearms him back. Lashley sends Sheamus into the ropes, but Sheamus holds on. Lashley charges, but Sheamus sends him to the apron. Sheamus snaps Lashley off the top rope. Sheamus hits some vicious 10 Beats of the Bodhrán, pulls him into the ring, and hits an Irish Curse Backbreaker… but he only picks up a one count. Sheamus hits another Irish Curse Backbreaker for a two count. Sheamus goes for a Cloverleaf, but Lashley fights out. Sheamus charges, but Lashley hits a scoop powerslam for a two count. Lashley hits a short-arm clothesline and stares at McIntyre. Lashley sends Sheamus into the ropes, but he lowers his head and eats a kick. Lashley sidesteps a Brogue Kick and goes for a Hurt Lock, but Sheamus fights it. Lashley quickly follows up with a flatliner for a near fall.
Lashley powers Sheamus to the corner and puts him on the top rope. MVP shouts for Lashley to end Sheamus. Lashley connects with a superplex. McIntyre looks pleased at ringside. Lashley sizes Sheamus up in the corner. Sheamus quickly knees him as he goes for a spear. Sheamus follows up with White Noise for a near fall! Sheamus backs up for a Brogue Kick, but Lashley counters into a spear for the hard fought victory.
Winner by Pinfall: WWE Champion Bobby Lashley
Lashley and McIntyre stare at each other. Lashley then puts Sheamus in the Hurt Lock. McIntyre gets on the apron and gets in the ring. Sheamus crawls into MVP, so McIntyre hits Lashley with a Claymore Kick to knock him out of the ring. McIntyre stands tall and stares at Sheamus as the show comes to an end.