Results by Mike Hogan of Rajah.com
February 17, 2021
Orlando, FL – Capitol Wrestling Center
Commentary: Vic Joseph, Wade Barrett, Beth Phoenix
---
Quick Match Results
Ember Moon & Shotzi Blackheart defeated Candice LeRae & Indi Hartwell via rollup by Moon on Hartwell
Leon Ruff defeated Isaiah "Swerve" Scott via crucifix pin
Kacy Catanzaro & Kayden Carter defeated Jessi Kamea & Aliyah via cross body by Catanzaro on Aliyah
Kushida defeated Tyler Rust via Hoverboard Lock
Zoey Stark defeated Valentina Feroz via knee to the face
Six-Man Tag Team Match: Pete Dunne, Oney Lorcan & Danny Burch defeated Finn Bálor, Kyle O'Reilly & Roderick Strong via the Bitter End by Dunne on Balor after Adam Cole attacked Balor
---
In-Ring: Kyle O'Reilly, Roderick Strong, Finn Balor
As our commentators still talk at ringside and Slipknot plays us in, Kyle O'Reilly wastes no time walking straight to the ring. He asks for a mic. "You all saw what happened Sunday at TakeOver. I keep replaying the moment in my head over and over, trying to make sense of it but I can't. I am…I'm shocked, I'm confused, I'm pissed off and I'm disappointed. We were supposed to be unlike every other group that ever came and went in this business. We were special, and you ruined it for all of us. You kicked me in the face but man, you stabbed me in the back. And, the thing is…Adam, you're still my brother which is why I'm giving you the benefit of the doubt. I've got to know what that was on Sunday, man, so Adam I need you to come out here. I need you to explain yourself and when you're done, I'm probably going to punch you in the face. But I'm willing to hear you out. I'm right here, Adam."
Roderick Strong comes out to defend the UE. He tells O'Reilly that what happened Sunday was just Cole caught up in the heat of the moment. Strong tries to explain that Cole regrets it–but O'Reilly cuts him off and yells at him, demanding the man himself come out. Roddy tries to him, reminding him of their brotherhood, and climbs up on the apron. Kyle O'Reilly warns Roderick Strong to not get in the ring or else. He then yells at Roddy, demanding Cole come out.
And out comes…Finn Balor. KOR exclaims "I'm not looking for you!" Finn tells KOR that he was looking for Kyle. The line to have words with Cole starts with him. Finn walks down the ramp. Roddy yells at Finn repeatedly, "He didn't have nothin' to do with it!" Finn then confronts Roddy, asking if he had anything to do with it.
Without warning, Pete Dunne, Oney Lorcan & Danny Burch appear and lay out all three men! It takes the refs a few moments to get them to back off. Balor holds his jaw as we cut to the commentary booth.
---
Segment: Santos Escobar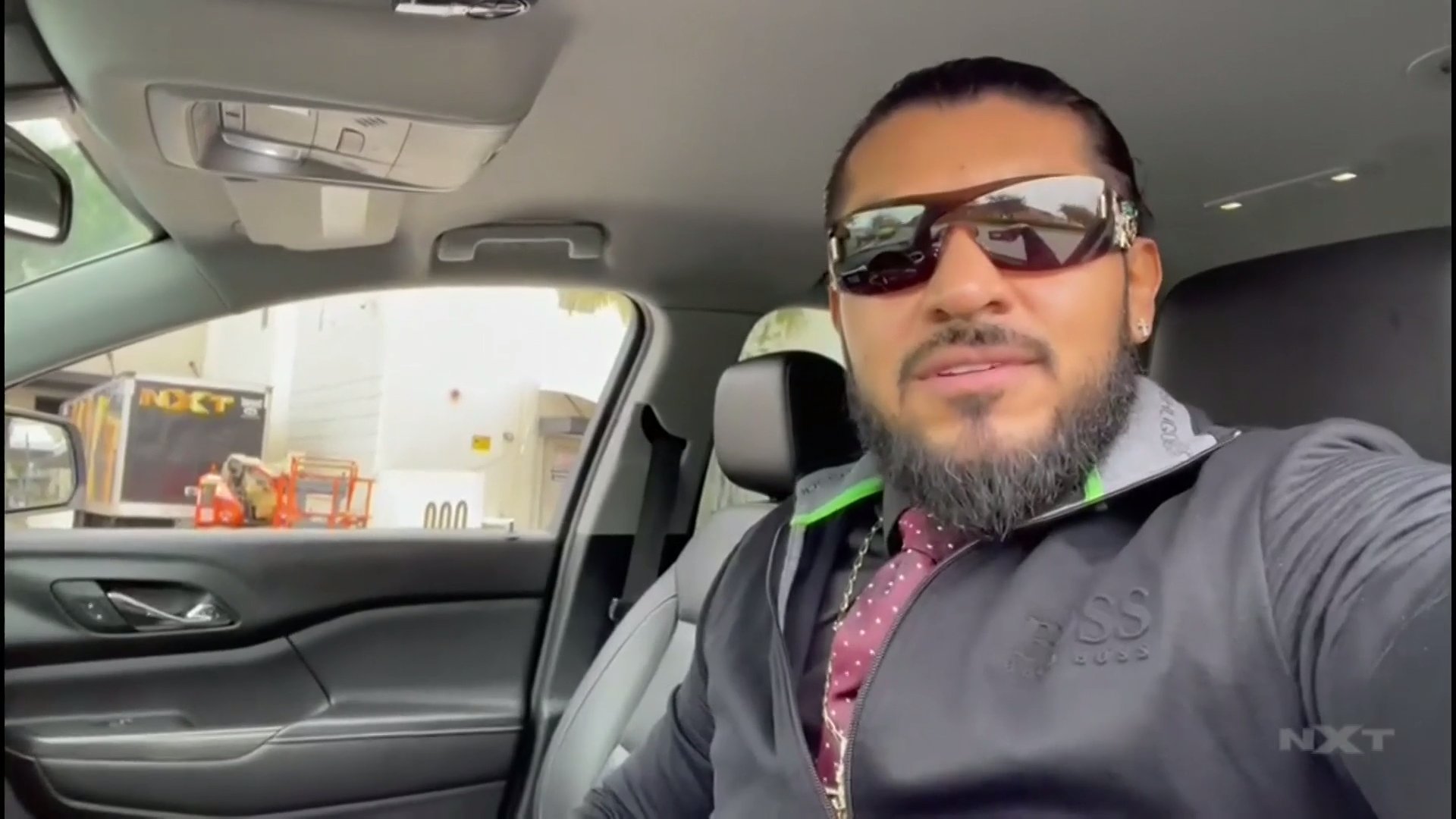 We get clips of Regal and Santos Escobar. Santos decided to stay in his car and leave, ignoring the Cruiserweight title match he was expected for tonight. Regal warns Escobar that he will appear next week for a non-title match or he'll be suspended and have his title stripped.
---
Ember Moon & Shotzi Blackheart vs. Candice LeRae & Indi Hartwell
Johnny Gargano escorts fellow The Way members, LeRae and Hartwell. He holds up a "Missing Persons" flyer with Austin Theory on it before joining commentary. Out next is Shotzi Blackheart and Ember Moon to low cheers from the crowds, both digital and in-person. Johnny wants to put out an APB (all points bulletin) but says it should be an ATPB as its for Austin theory. Blackheart and Moon start off strong, keeping LeRae isolated from her partner. Shotzi sends LeRae out the ring and beats her around the ring before taking her back in. We go to commercial but with P-in-P. During the break, Blackheart locks LeRae's arms in a reverse butterfly lock, forcing Candice into the corner and allowing Ember Moon to take control. LeRae briefly tags in Hartwell, but Moon handles her with ease, utilizing suplexes and running strikes. Hartwell tags in LeRae while Moon tags in Blackheart. LeRae takes Shotzi to the corner, sending thrusts to her midsection. Snapmare to the middle of the ring. Covers but doesn't get it. Hartwell is tagged in and LeRae kicks Shotzi as Hartwell come sin. The Way work on keeping Shotzi in their corner.
Back from the break sees Shotzi throw Hartwell and LeRae both over the middle rope, setting them up to be attacked by Ember Moon from both the ringside floor and the apron! Gargano continues his heel commentary. LeRae and Moon legal. Moon charges Hartwell before she exits and eats a big boot for it. LeRae attempts a cover, then beats down on Moon with kicks before locking a side headlock on her. Outside the arena, we see a creepy panel van pulling into the parking lot. In the ring, LeRae fails to submit Moon and tags in Hartwell. Hartwell attempts a cover. Hartwell sends Moon to the corner and hits her with big thrusting shoulders that shove Moon off her feet. Moon tries to fight back but is immediately stopped by a big sidewalk slam from Hartwell. Hartwell attempts a cover, then drags Moon to The Way's corner. LeRae tags in and plays with moon, kicking her then wrenching her arm. LeRae rolls Moon to a seated position then kneels behind Moon and locks up her arms. Moon powers to her feet but LeRae whips Moon's head down into the mat. Cover but only gains a two. LeRae takes Moon to the corner and tags in Hartwell. Moon attacks LeRae as Hartwell is entering. Moon begins to fight back against Hartwell. Moon almost reaches her corner but Hartwell stops her by whipping her through the ropes and onto the apron. LeRae tags in and hits an aerial move, smashing into Moon and into the cold, hard steel of the ramp. The pedo van is shown again outside, and we go to a commercial–but no P-in-P.
Back from the break and LeRae desperately tries to keep Moon from making the tag. Moon with a step-up Enziguri! Moon and LeRae each tag in their partners. Blackheart takes it to Hartwell, taking her down with a suplex and fast kicks and strikes. Shotzi puts Indi in a suplex bridge. LeRae hits the ring to break it up, leading to Moon getting involved. In the parking lot, Johnny Gargano is pounding on the mystery van and asking if Austin's in there. In the ring, LeRae and Shotzi are legal. LeRae nails Shotzi with a superkick to the chin and covers. LeRae shrieks with frustration at only getting a two. Shotzi and Hartwell again enter the ring. Blackheart drops Hartwell with a suplex. Shotzi goes up top as the ref warns her. Candice LeRae streaks over and attacks Shotzi. Hartwell is still legal as Moon comes in. Austin Theory is present–in his underpants, a crop shirt, with a white fanny pouch and a black bag over his head. Gargano is with him and removes the hood. LeRae runs up the ramp to celebrate. The distraction costs her, though, as Hartwell returns to the match at hand just in time for a rollup by Moon for the win!
Your Winners, Ember Moon & Shotzi Blackheart!
---
Video Promo: Pat McAfee
We see Pat on a jet. "Hello, Internet Wrestling Community. It's your favorite wrestler of all time, Pat McAfee. Obviously I'm on my bird, traveling to warmer lands…hopefully you all see you were bamboozled…and it turns out (Cole) is the scumbag I said he was." He encourages us to tweet our apologies to McAfee with the hashtag PatWasRight. He again claims he's the greatest wrestler in all of wrestling and ends the promo. We go to commercial.
---
Backstage: Kushida, Bronson Reed
Mackenzie is asking Kushida about the loss this past Sunday. Kushida says that he's not done with Johnny Gargano. Bronson Reed walks out and says the same. He adds that if it comes down to Reed or Kushida, they'll cross that bridge when they get to it. Everyone but Kushida and Mackenzie walk off. Malcolm Bivens, seated in the background, stands and walks up. He compliments Kushida, then asks the staff nearby if Kushida is medically cleared to compete tonight, and they state he is. Bivens then tells Kushida that he can't wait to talk to William Regal.
---
Leon Ruff vs. Isaiah "Swerve" Scott
This match has a very fast pace. Swerve starts off strong, executing series of strikes, aerial kicks and suplexes to take control early on. Ruff is whipped into a corner and onto the apron, and is able to briefly take control by shoulder blocking Swerve. Ruff gets a modicum of offense in but Swerve is too much. Swerve sends Ruff into the corner and charges in with a dropkick. Swerve gets too cocky and Ruff rolls him up in a Crucifix pin to pickup the win! Short but good match.
Your Winner, Leon Ruff!
---
Kacy Catanzaro & Kayden Carter vs. Jessi Kamea & Aliyah
The two KC's are out first. Catanzaro may be referred to as KC1, and Carter as KC2. We get a pre-recorded video package where the KCs discuss the betrayal they felt at the hands of Xia Li. KC1 starts Jessi Kamea. The KCs spend the first couple of minutes controlling Kamea, confining Kamea to the corner. Kamea eventually escapes and brings in Aaliyah. Up the ramp, Boa stands watching. This fires up the KCs who hit a snapmare and attempt a cover on Aaliyah. KC1 tags in KC2 and restrains Aaliyah. KC2 leaps from the top onto her and picks up the win in a short, fast match.
Your winners, Kacy Catanzaro & Kayden Carter
After the match, Xia Li joins Boa up the ramp. Kacy heads up the ramp and tells her former friend that what happened last week, doesn't matter. Xia Li grabs Kacy's hand and either draws something on it with paint or oil; Kacy holds her hand funny. Xia Li tells her that next week, Li will face Catanzaro and make her hurt.
---
Backstage: Malcolm Bivens & Tyler Rust
Malcolm Bivens explains to us that Tyler Rust is ready for a challenge. He compliments Kushida, then claims Rust is the best in the business. Bivens knows Kushida is banged up, but he's cleared to fight. He adds, "Rust's not a rookie. He's a Diamond."
---
Segment: MSK, Dakota Kai & Raquel Gonzalez, Shayna Baszler Nia Jax
We return from break with the Dusty Cup in the ring on a podium and WWE Hall of Famer Beth Phoenix. Phoenix praises Dusty, and the champions who won. We then get a video recap of both the Dusty Rhodes Tag Team Classic as well as the first-ever Women's version. We get more clips from the finals this past Sunday, in which MSK and the Grizzled Young Veterans put on a hell of a match. Dakota Kai & Raquel Gonzalez proved especially innovative and brutal against Shotzi Blackheart & Ember Moon. We cut back to the ring. Phoenix asks us to join her in welcoming the winners of the Men's Dusty Rhodes Classic, MSK. MSK stop at the top of the ramp with mics. They ask Beth to give them a moment because they still have some excitement worked up inside. They whoop and holler as they make their way to the ring. Nash Carter asks if he can give the legend Phoenix a hug and she gives consent. Afterwards, his partner says "tag in!" and Wes Lee gives her a hug, too. They then address Lorcan & Burch, telling them that in a few weeks they're coming for their NXT Tag Team Championships. They hype themselves up as becoming the next tag team champs. They're very solid on the match and have great chemistry.
Beth asks them to hold up and calls out Kai & Gonzalez, the Women's Cup winner. Out come the kicking Kiwi and the powerhouse that is Raquel Gonzalez. MSK welcomes them to the ring as does Beth. The fans in attendance start a "you deserve it" chant. Phoenix asks them how they feel. Kai says that they feel awesome, and crushing opponents always makes them feel great. She starts to speak more when the Queen of Spades' music plays! Out comes Shayna Baszler & Nia Jax!
Baszler and Jax are both dressed in black and speak as they make their way along the ramp. They tell them that they did well, but informs them that they can't de-throne the champs. MSK are perfect gentlemen and hold the ropes for both Jax and Baszler. Kai tells Raquel "this is Nia Jax." Jax points out she defeated her. Kai then addresses Shayna Baszler, who essentially tormented Kai for a long, long time in NXT. Kai claims that Baszler ran away when she lost to Rhea Ripley. Gonzalez points out that she beat Rhea. After much back and forth banter–with Phoenix and MSK in a corner, sharing two tubs of popcorn as they watch–Jax informs them that she's only there to show respect to Dusty Rhodes, who recognized her for what she is. Jax remind Gonzalez that she's the biggest, baddest bitch here. Shayna then states that in three weeks, they're going to come to NXT to humiliate Kai & Gonzalez. They start to leave. Gonzalez gets on the mic and tells them to be careful what they say, and says "I'm going to take that boot right there and shove it right up your Hole!" The crowd bursts out at this, as do MSK who drop their popcorn. In three weeks, both teams meet for the Women's Tag Team Championship!
---
Video: Cameron Grimes
We get…we get a rap song of sorts over various images of Grimes with money doing many things, such as standing in a speedo by the pool, throwing some in the air, tacking it in his pockets. At least this time he's using $20's instead of $1's like last week. For what it's worth, the rap song was written for Grimes. Okay. We then end the music and cut to a clip of Grimes standing outside his crashed sports car, laughing about it and saying he's getting a new one. Beth Phoenix calls Grimes a billionaire. Okay.
---
Earlier Today: Toni Storm, Io Shirai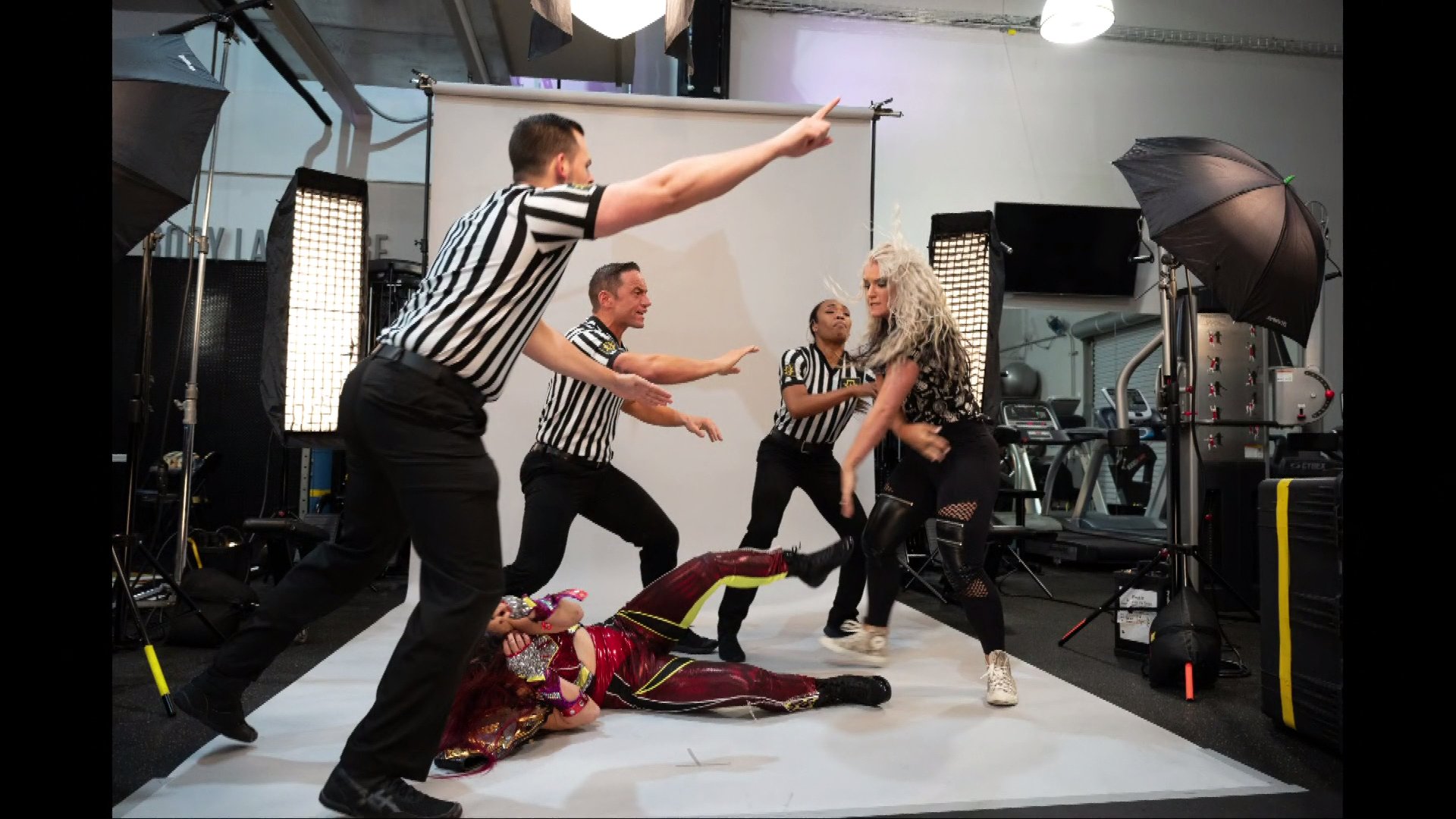 We see still shots of Io Shirai, posing for a photo shoot before Toni Storm ambushed her. We see photos of Storm attacking Shirai and leaving her on the ground.
---
Kushida vs. Tyler Rust
Both men are in the ring as we return. Kushida and Rust lock up. Both men exhibit great athleticism, escaping grapples and countering each other. Kushida's a bit beaten up from his 25-minute match on Sunday. Kushida goes for a low leg dropkick but Rust shrugs it off and applies a working hold on a grounded Kushida. Kushida escapes and again, Rust slaps a working hold on him. Kushida manages to walk them into the ropes to force the break. Kushida now fires up, hitting his rope-assisted handspring back elbow! Rust goes for a grapple and Kushida performs a standing switch. Kushida escapes another attempt by sliding down and backwards, through Rust's legs. Rust gains control, leveling Kushida with a big strike. Rust continues to work over Kushida, softening the neck and shoulder. We go to break as Kushida slides outside the ring to recoup and Rust stands, smirking, in the ring.
When we return, Rust is temporarily in control. Kushida fires up and starts working on Rust's arm, hinting at a Hoverboard Lock but, instead, runs forward and slams Rust down to his face by way of his hurt arm. Kushida looks for perhaps a powerbomb but Rust back body flips Kushida off of him. Rust with a suplex. Rust with a big Axe Kick that flattens Kushida! He covers but only gets two. Rust with a kick to the chest and a loud kick to the back of the head, and Rust covers again for two. Rust pulls Kushida up in a rear waist lock, and Rust looks for the gut-wrench German Suplex but Kushida slips out and tries to counter. Rust switches and latches onto Kushida, slapping on a sleeper! Kushida can't get to the ropes! Kushida tries to roll it over into a pin attempt to force Rust to break the hold. Rust then switches to a modified bow-and-arrow lock with a side sleeper element. Barrett comments he's never seen that hold. Again, Kushida tries to roll him up to force the submission break. Kushida fires up again and takes Rust to the mat, locking in a Hoverboard Lock submission. Rust is in agony and can't reach the ropes. Malcolm Bivens hops on the apron and throws in the proverbial towel for Rust. Kushida yells "Alright, I'll stop" after the ref calls for the bell.
Your Winner, Kushida!
---
Earlier Today: LA Knight
We see a clip of his on-screen debut (2nd go at NXT) before cutting to clips from earlier today, in which a camera person is at his front door. He answers and isn't pleased. "What the hell do you want? Bye. Actually know what, lemme talk to ya. Because just a few days ago at NXT TakeOver: Vengeance Day" he introduced the world to L.A. Knight. He tells us that he's already rocked the wrestling world. He threatens the camera person as he doesn't want them coming around. He cuts a great promo and this isn't doing it justice, but it'll be on the WWE site/YT soon.
---
Zoey Stark vs. Valentina Feroz
Zoey Stark makes her NXT single's debut. All three commentators praise Stark's work ethic and how well she did in the Women's Dusty Classic. The bell rings and Stark makes like Ironman and destroys Feroz for the first ninety seconds. Feroz is allowed to get in two kicks, then tries a roll up. Feroz dropkicks Stark into the corner, then uses a Judo Throw to send Stark to the mat. Feroz covers but doesn't get much. Stark rebounds, dropping Feroz and pounding on her back. Feroz charges Stark in the corner; Stark catches her and tosses Feroz over Stark's head, letting her drop to the mat behind her. Stark begins to toy with her opponent. Stark with a running knee strike to Feroz's jaw, smiling immediately afterwards. Stark then picks up Feroz and executes Stark's new finisher–not named on air–in which she essentially spins Feroz as if she ate a hard lariat, then kicks her in the face as she spins. Stark picks up the win.
Your Winner, Zoey Stark!
---
Video Promo: Karrion Kross, Scarlett
Scarlett starts things. "You like to play games, Santos? Well playing with time is not your forte. You don't have that power. There's no pause button on this nightmare." She backs up and Kross speaks. "Mister Santos, your destiny has already been decided and there ain't no going back. You've got a big decision to make with two options. Option A, you show up next week and you step into the ring with me like you were supposed to. And I take my arm and drive it through the back of your head on live television. Or Option B, you don't show up and you're stripped of your championship, and then I catch up with you anyways. And I leave you where I find you. There ain't no easy way out of this one. Just the hard one. Tick tock." Throughout this, we see various black-and-white clips of Kross, Scarlett, and Legado's recent conflict with them.
---
Six-Man Tag Team Match
Pete Dunne, Oney Lorcan & Danny Burch vs. Finn Bálor, Kyle O'Reilly & Roderick Strong
Out first are our champions of the night, the pious Pete Dunne with Lorcan & Burch, the reigning NXT Tag Team Champions. Out next is the NXT Champion, Finn Bálor! After about a minute, out come the Undisputed Era's Kyle O'Reilly & Roderick Strong. Commentary questions trust and we go to break!
When we return, we start with Oney Lorcan and Kyle O'Reilly. KOR starts fast, battling Lorcan into the corner and landing several strikes. KOR slaps an arm hold on Lorcan and comes to his corner…but tags in Bálor, not Strong. Bálor and O'Reilly engage in a very short series of quick tags as they continue to work over Lorcan's arm. Bálor comes in yet again but Lorcan is able to force Bálor to the heel corner. Burch tags in. Bálor locks an arm twist on Burch, and takes him back to the UE corner where Roderick Strong is finally tagged in. Strong works the arm on Burch until he's able to force his way back into his corner. Dunne is tagged in and grapples with Strong. Strong whips Dunne into the ropes and connects with a dropkick to the face. Strong fights back with a series of chops. After several attempts, Strong manages to tag in O'Reilly. KOR and Burch clash. KOR takes a big hit to the jaw and face, and Vic tells us that KOR's eye might be hurt. Burch tags in Dunne. Dunne strikes KOR. Dunne sends KOR into the ropes, and he bounces off, avoiding Dunne's offense and tagging in Bálor!
Finn hits the ring hard, taking down his rival Dunne. Bálor takes out Burch and Lorcan then focuses on Dunne. 1916 lays out Dunne, and Bálor gets a close two before Burch breaks it up. Burch is sent down to the outside as well as Lorcan. Strong and KOR are not in their corner, either. Dunne looks for a Bitter End but Bálor attempts to counter it with a 1916. Both men break contact and Bálor hits the Slingblade! Suddenly, Burch is at ringside with the NXT Championship belt, distracting the ref. The ref tugs with Burch and the ref is accidentally knocked out.
Suddenly, Adam Cole hits the ring while the ref is down! Cole takes out takes out Bálor and O'Reilly. He hits a superkick then suplexes KOR onto the steel steps! He leaves and as Bálor recovers, Dunne sneaks in from behind and hits Bálor with the Bitter End as the ref regains consciousness and picks up the win.
Your Winners, Pete Dunne and Oney Lorcan & Danny Burch!
Cole comes in from behind, again taking out the champion. He walks the ring and looks over at Kyle O'Reilly, who's out cold at ringside with refs attending to him and calling for medical help. Cole picks up the NXT Championship and holds it high in the air as he stands over the champ and we end our program!