January 18, 2021
St. Petersburg, Florida (Tropicana Field)
Commentary: Tom Phillips, Byron Saxton, and Samoa Joe
Results by: Mike Tedesco of Wrestleview.com
---
Quick Match Results
Charlotte Flair defeated Peyton Royce via Figure Eight
Mace defeated Xavier Woods via side slam
Shayna Baszler defeated Mandy Rose via Kirifuda Clutch
AJ Styles defeated Ricochet via Styles Clash
The Hurt Business (Bobby Lashley, Shelton Benjamin & Cedric Alexander) defeated Riddle & Lucha House Party via the Hurt Lock by Lashley on Metalik
Jeff Hardy defeated Jaxson Ryker by disqualification when Elias interfered
Alexa Bliss defeated Asuka via Sister Abigail
---
A video kicks off the show commemorating the life of Reverend Doctor Martin Luther King, Jr. as America celebrates his life.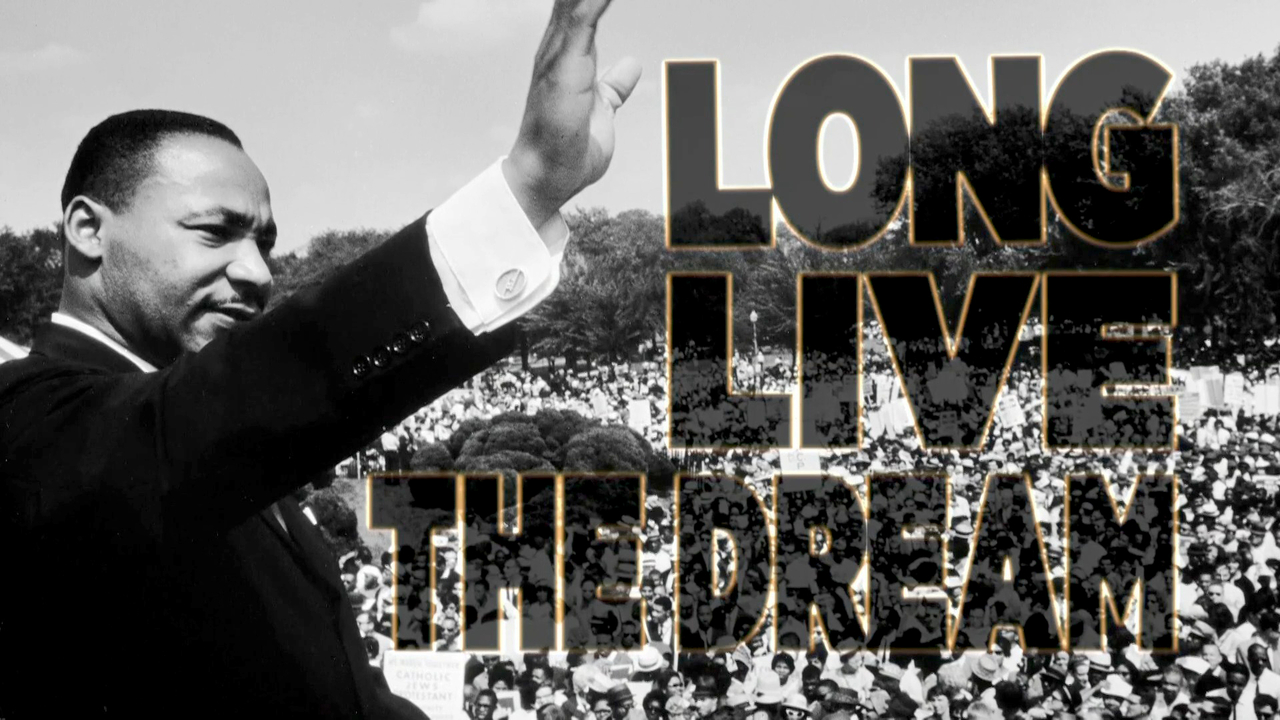 ---
Backstage: Randy Orton
Randy Orton is shown backstage in the shadows. Those that fight fire with fire usually wind up with ashes from their affliction. Orton is in a Mil Mascaras-style mask. The voices in his head have never been louder, encapsulating his every thought just like this mask encapsulates his face. Three weeks ago he held Alexa Bliss' fate in his hands. Orton showed a side of himself he didn't know existed: compassion. The pure hatred he has for himself needed to be released. His next victim arrived like a lamb to the slaughter until she interrupted. Footage is shown of Alexa Bliss hurling a fireball into Orton's eyes.
Now look at him. This is the damnation he received for showing compassion. Orton hasn't been able to sleep. When he closes his eyes, all he sees is that ball of fire going toward his face. That inescapable feeling of fire melting his flesh will never go away. If there was any semblance of compassion left in his body, it left when that inferno engulfed his face. Orton is wearing this mask to not only protect himself, but shield everyone from the horror he endured. Orton considers himself lucky he came away with first degree burns.
The burns could have been worse, but he doesn't blame her. Orton blames HIM… The Fiend. Orton sent him straight to hell. Footage is shown of Orton burning The Fiend at WWE TLC in December 2020. There's no doubt The Fiend is responsible for this. Alexa was merely the vehicle. Orton knows exactly what The Fiend wants. The Fiend wants to stop Orton from achieving the inevitable. Footage is shown of Orton willing the 2009 and 2017 Royal Rumble matches. Orton knows everyone in that locker room enjoyed seeing his face burnt to a crisp knowing that their biggest threat may have just been eliminated from competing in the Royal Rumble match. You can chop off all his limbs and you couldn't keep him away from the Royal Rumble. Despite his sickening injury, he's going to be in the Royal Rumble. As long as he can tolerate the pain, he'll compete. Orton enjoys the pain. It fuels his every move.
Orton takes out a matchbox and says everyone can thank The Fiend when he burns their Royal Rumble dreams to ashes. Orton will go on to main event WrestleMania. Orton lights a match and blows it out.
---
Backstage: Ric Flair, Lacey Evans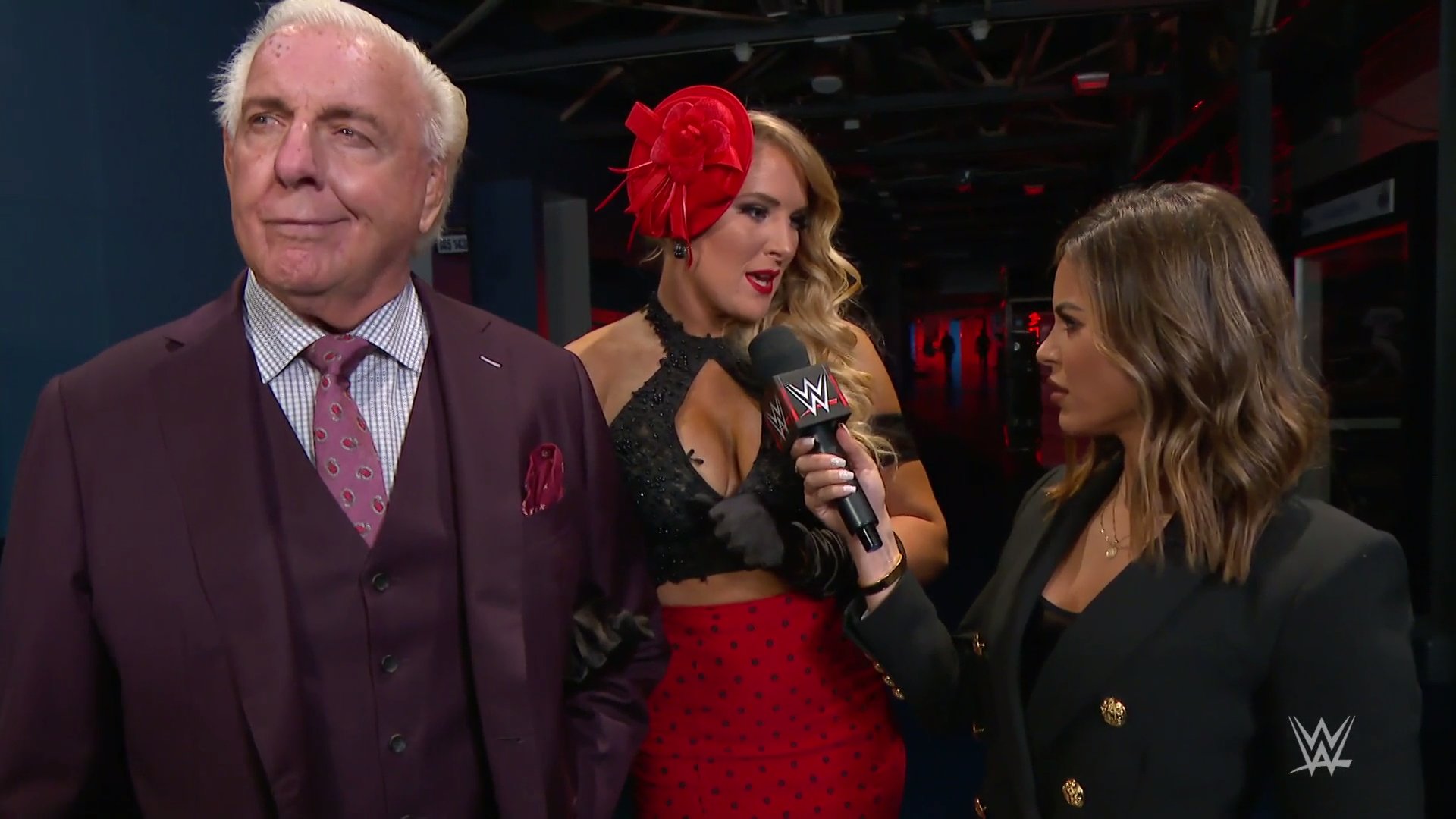 Footage is shown of Ric Flair helping Lacey Evans defeat his daughter, Charlotte Flair.
Ric Flair and Lacey Evans are walking backstage when Charly Caruso interrupts. Evans takes exception with Charly's questions. Evans won't let Flair talk. She says she's learning from the greatest man to ever step in the ring. They're going to watch her partner Peyton Royce knock that nasty queen off his throne.
---
Charlotte Flair vs. Peyton Royce
WWE Women's Tag Team Champion Charlotte Flair makes her entrance. As she does, she's attacked from behind by Peyton Royce. Flair quickly knocks her back and gets in the ring.
The bell rings, and Flair quickly powers her to the corner and shoulders her. Royce soon turns her around and stomps away at her. Flair quickly takes her down and rains down forearms. They tussle into the ropes and fall out of the ring. Flair chops the chest a few times and puts Royce back in the ring. Royce crawls across the ring and gets back out. Flair follows, blocks a kick, and strikes Royce. Flair bounces her off the commentary table and puts her in the ring. Royce again leaves the ring, so Flair follows her and hits some more chops. Royce eventually moves, and Flair chops the ring post. Royce sends Flair headfirst into the post and gets her in the ring. Royce applies a chin lock. Flair fights out and hits a clothesline. Flair bounces her off the corner, but Royce fights back and takes her down for a two count. Royce kicks her in the back a few times and puts her in the corner. Royce chokes her with her boot in the corner. Royce whips her across the ring, but Flair rolls up the turnbuckle and knocks her back. Flair rolls her up for a two count. Flair puts her on the ropes and hits a neckbreaker. Flair covers, but Royce kicks out.
Ric Flair's music hits, and he struts out to the stage. Charlotte is not happy. Lacey then comes out in a purple Ric Flair robe and struts. Charlotte is not happy. Royce takes Flair down, but Flair kicks out. Flair rolls out of the ring to recover.
We come back from the break to see Flair fight back at Royce and take her down. Royce hits a jawbreaker and sends her into the ropes, but Royce lowers her head and eats a kick. Royce fights back with a hideous side kick. Royce goes to the top rope, but slow motion jumps over Flair. Flair takes her down with a flatliner into the corner. Royce kicks out. Flair big boots her to the floor and shouts at the stage.
Flair stomps away at Royce as she gets back in the ring. Flair puts Royce's leg on the ropes, but it slips off. Flair puts it back on the ropes, but Royce's leg falls off again. Royce then avoids whatever Flair was going for. Royce hits a terrible looking spin kick before connecting with a second kick for a two count. Flair chop blocks her and hits a leg breaker. Flair then puts her in the Figure Eight and mercifully this match is over.
Winner by Submission: Charlotte Flair
Flair tries to hold onto the Figure Eight, but she loses her balance. Flair then arcs the back and cinches it back in.
---
Backstage: The Hurt Business, Riddle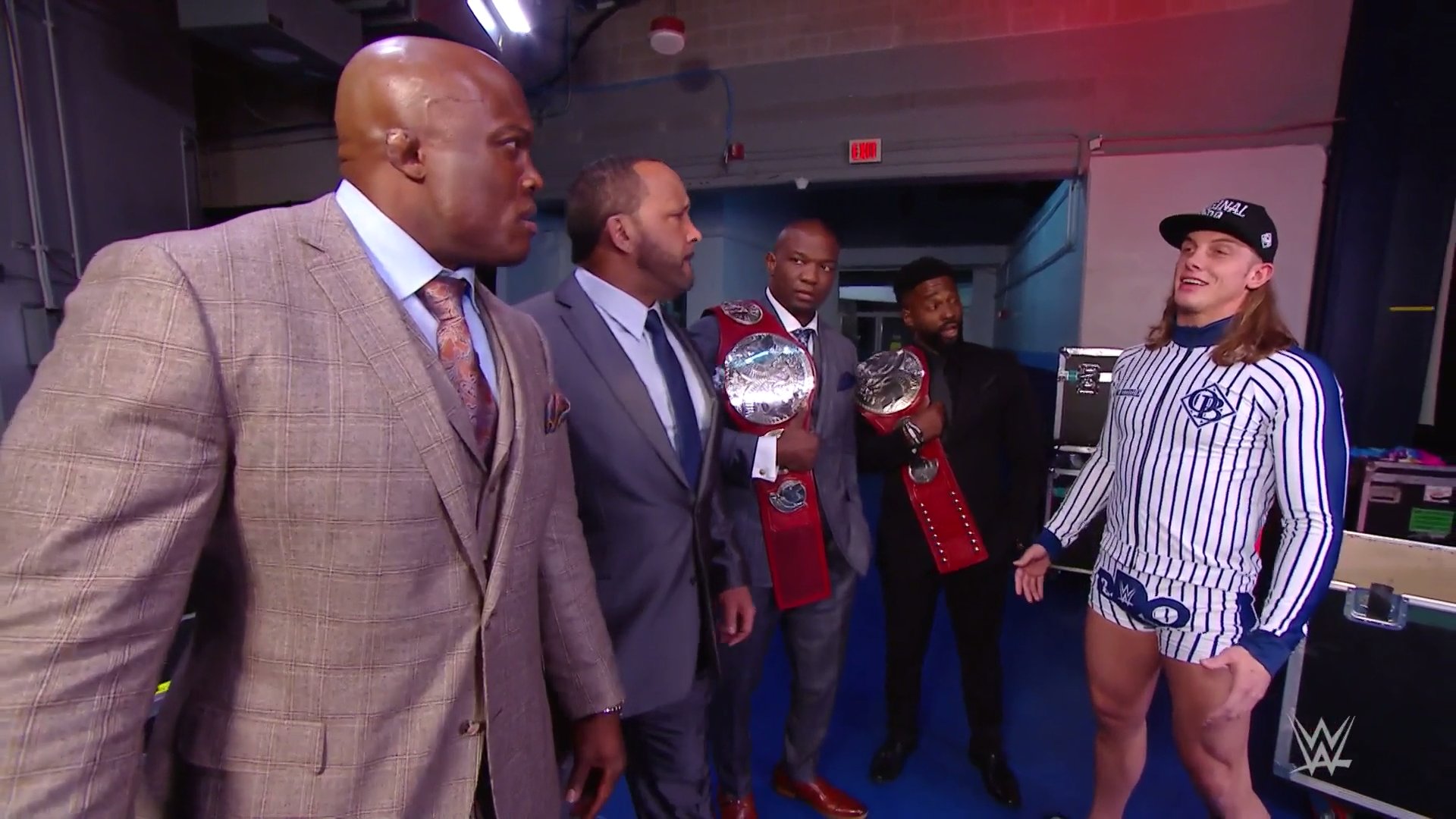 The Hurt Business is walking backstage when they bump into Riddle. Riddle is impressed with how they dress and gives them nicknames. Who would call Lashley "Slobby Bobby" when he's dressed like that? Lashley says he likes the flip flops, but they're bad for your feet. The camera shows Lashley stomping the ground a million miles away from Riddle's foot, and Riddle falls down like his foot was destroyed. Wow.
After commercials, Riddle is backstage icing his foot. The Lucha House Party is worried about him, but he says he'll be fine.
---
Xavier Woods vs. Mace
Footage is shown of Mustafa Ali saying he's coming after Xavier Woods because Kofi Kingston stole his spot in 2019.
Xavier Woods approaches Mustafa Ali and punches him down before the match starts.
The bell rings, and Woods quickly avoids Mace before chopping him. Mace takes him down and controls him for a bit before Woods fights up and dropkicks him in the knee. Woods elbows away at the head and goes for an Honor Roll, but Mace grabs him by the throat. Woods hits an enzuigiri that sends Mace out of the ring. Woods then hits Mustafa Ali with a baseball slide before knocking Mace off the apron.
Slapjack and T-Bar circle the ring while Woods superkicks Mace. Mace fights back with a spin kick. Mace loses his grip on Woods and hits a dangerous looking slam for the win.
Winner by Pinfall: Mace
Mustafa Ali looks into the camera and tells Kofi Kingston to get well soon.
---
Backstage: Asuka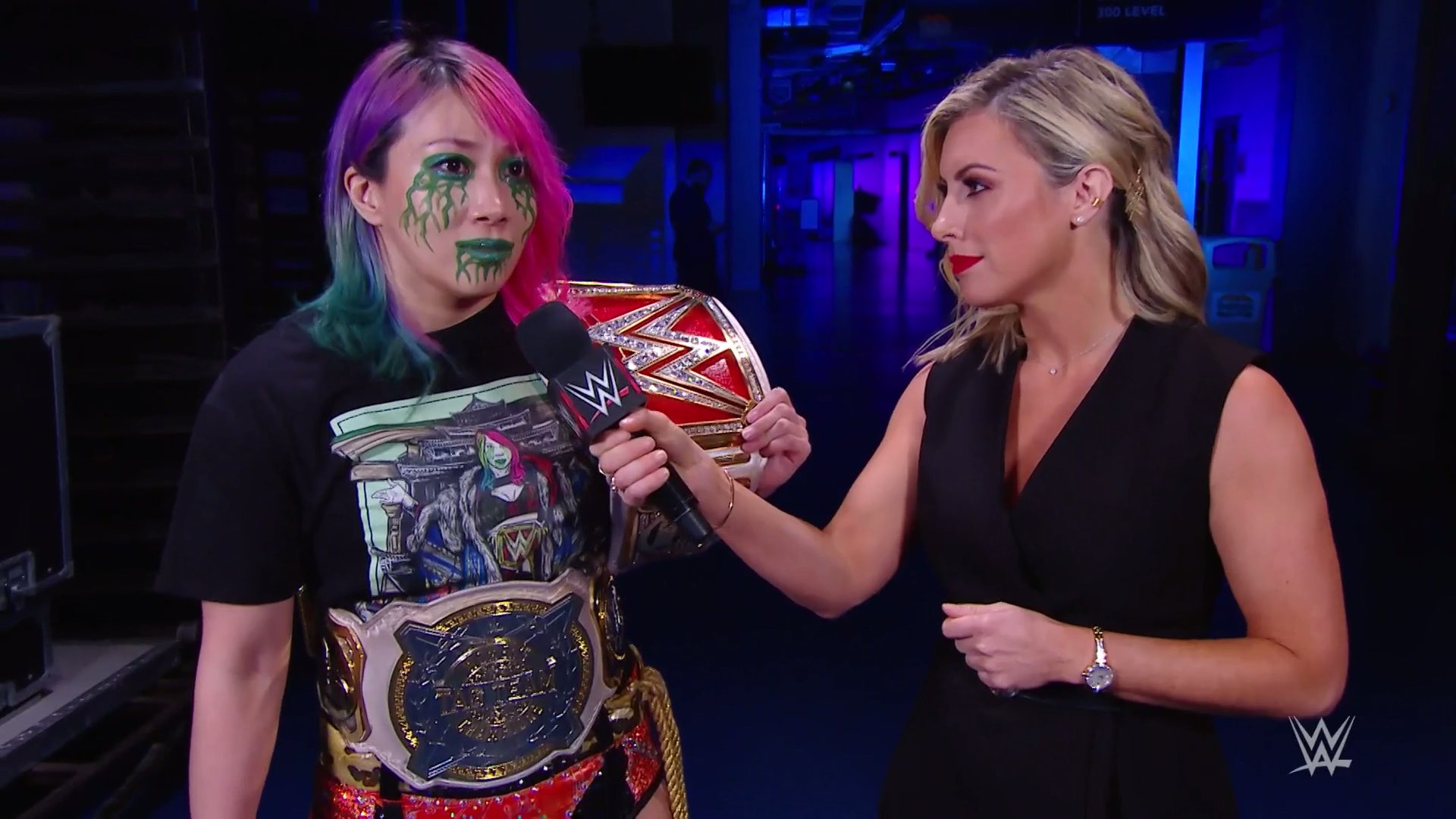 Asuka is walking backstage when Sarah Schreiber asks what she can expect from Alexa Bliss' Playground. Asuka says, "I don't know." Then they awkwardly cut to a video of Bliss blowing a fireball into Randy Orton's face. Then we rejoin Asuka mid-sentence talking about Bliss' dark side and walks off.
---
Video: WrestleMania Announcement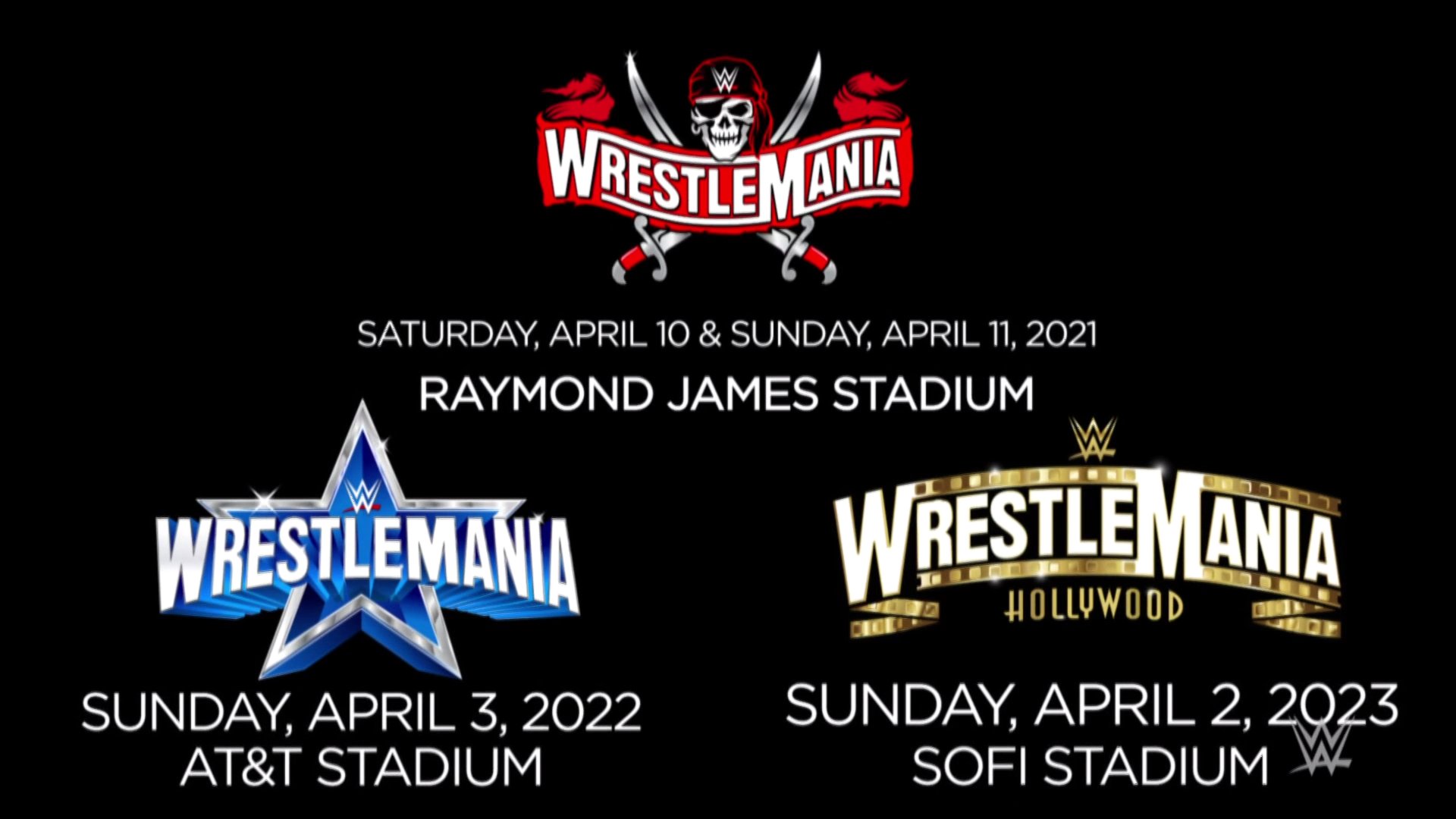 Video: WrestleMania Report announcing the next three locations of WrestleMania. During this video, they briefly cut to Alexa Bliss' entrance in the ThunderDome.
---
In-Ring: Alexa's Playground w/ Guest Asuka
Alexa Bliss makes her entrance to her Playground. Bliss says she just wanted to clear the air with Randy Orton before things got… heated. If Orton needs a good suggestion on sunblock he can just let her know. It's nice to see Randy Orton in good spirits and feeling better.
Tonight she has a special guest: her opponent, one-half of the Tag Team Champions and Raw Women's Champion, Asuka.
Raw Women's Champion and WWE Women's Tag Team Champion Asuka makes her way to the ring. Asuka goes to sit on a swing, but Bliss says that's not her seat. Asuka laughs nervously and walks to the other side of the ring. They do some awkward laughing. Bliss says she will be in the Royal Rumble match. If Bliss wins, she'll face Asuka at WrestleMania. Asuka says it would be a big honor. She's a fan of Bliss. Asuka says, "Yowie Wowie," but Bliss isn't happy.
Asuka starts to dance, and Bliss gets angry. Bliss talks to the swing set and says it wasn't supposed to be like this. If she did things differently, he'd still be here. Asuka says it will be ok and tries to help Bliss. Asuka says, "HE is still here." Bliss angrily tells Asuka to not say his name. A rocking horse starts to move, and Asuka just leaves in fear. Bliss happily sits on the horse.
---
Backstage: The Miz, John Morrison
What's in store for @Goldberg on #TheDirtSheet tonight?@mikethemiz & @TheRealMorrison plan on stirring up a little controversy… #WWERaw pic.twitter.com/C2ckR2Panp

— WWE (@WWE) January 19, 2021
The Miz and John Morrison are walking backstage when Sarah Schreiber asks what they have in store for Goldberg tonight. They won't give any spoilers, but it'll be controversial.
---
Backstage: Shayna Baszler, Nia Jax
It's every woman for themselves in the #RoyalRumble, @NiaJaxWWE & @QoSBaszler!#WWEERaw pic.twitter.com/Qe32LxV6sy

— WWE (@WWE) January 19, 2021
Shayna Baszler is backstage with Nia Jax. She talks about throwing Mandy and Dana out of the ring. Baszler says it'll be the same for all the women in the Royal Rumble. Baszler and Jax get into a disagreement.
---
Video: Jeff Jarrett
Video Package: Jeff Jarrett predicts Goldberg will be the new WWE Champion after the Royal Rumble
---
Mandy Rose vs. Shayna Baszler
Footage is shown of Shayna Baszler tagging herself in off Nia Jax and choking out Mandy Rose.
Baszler dominates Rose early on. Rose fights back, and the screen goes black that signals a wardrobe malfunction. Rose knocks Baszler back and hits a slow motion flapjack. Rose punches away at her until Baszler attacks the injured arm. Baszler twists the arm, but Rose punches her. Baszler hits an arm breaker and applies the Kirifuda Clutch for the win.
Winner by Submission: Shayna Baszler
After the match, Nia Jax and Shayna Baszler argue at ringside. Dana Brooke hits a missile dropkick off the apron to send Jax into Baszler. They both hit the ring post.
---
Backstage: Nia Jax, Shayna Baszler
Nia Jax and Shayna Baszler are still arguing backstage. They're asked about their disagreements, but they say they've never gotten along. Baszler says they want a Women's Tag Team Championship rematch, which they never got after losing the titles.
---
Backstage: Charlotte Flair
Footage is shown of Lacey Evans wearing Ric Flair's robe earlier tonight.
WWE Women's Tag Team Champion Charlotte Flair says she's taken enough garbage. Evans can wear her father's robe, but she won't take her crown.
---
Backstage: Adam Pearce, Ricochet, AJ Styles, Omos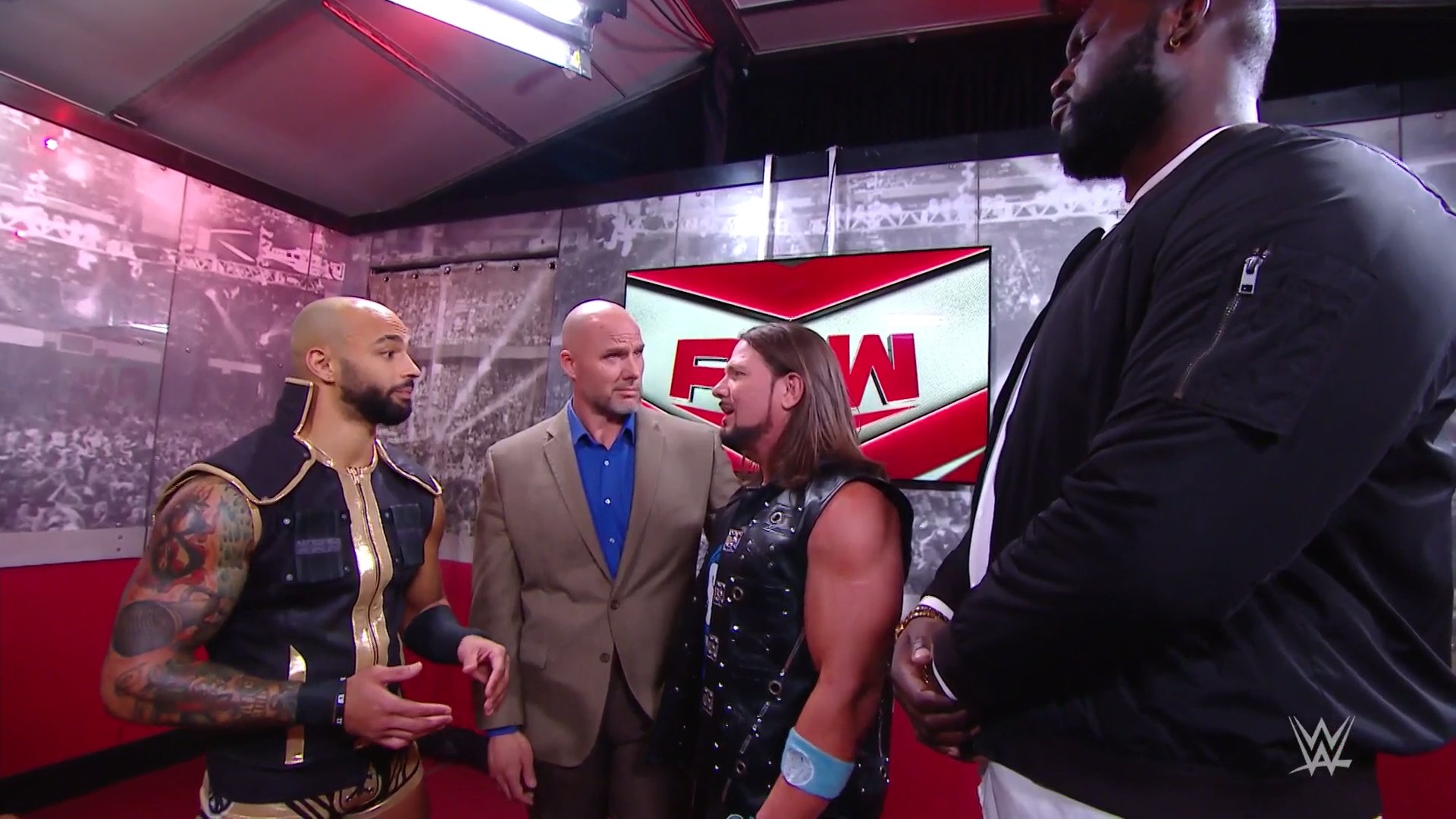 Footage is shown of Kevin Owens taking Adam Pearce's place at the Royal Rumble against Roman Reigns for the WWE Universal Championship.
WWE Official Adam Pearce is talking with Ricochet backstage. Ricochet says tonight could be the start of his road to WrestleMania. AJ Styles and Omos walk up to them. Styles asks who would take advice from Pearce after he tucked his tail and ran. Yes, Pearce would have lost and been embarrassed, but at least he has his dignity. Ricochet will lose tonight, but he'll have his dignity. Ricochet says Styles has selective amnesia like Drew Barrymore in 50 First Dates, a movie from 2003. Ricochet's point is Styles forgot about his shame of losing at WWE TLC. Ricochet says he'll need more than a 7-foot giant to show he doesn't belong in the Royal Rumble.
Ricochet makes his entrance.
AJ Styles is still backstage with Adam Pearce. Styles says he doesn't like Pearce. When Styles doesn't like someone, Omos also doesn't like them. Omos steps up to Pearce.
Ricochet vs. AJ Styles
AJ Styles tries to control the early portion of the match with a side headlock, but Ricochet fights up. They trade roll-ups and Ricochet avoids a few Styles Clash attempts. Ricochet hits a hurricanrana and dropkicks Styles out of the ring. For no reason whatsoever, Ricochet looks at Omos and talks trash. Ricochet hits a baseball slide head-scissor takeover on Styles. Ricochet goes for a plancha, but Styles moves and Omos catches him. The referee is watching this and tells him to put Ricochet down. Omos drops Ricochet flat on his back. Somehow this is not a disqualification.
We come back from the break to see Styles hit a backbreaker on Ricochet. Ricochet fights back by flipping through a German Suplex and connecting with a tornado DDT. Ricochet hits a discus lariat for a near fall. Styles fights out a Recoil, but Ricochet flips over him and hits a German Suplex for a near fall. Ricochet runs wild until going for a springboard moonsault, but Styles apparently knocks him out of midair. That didn't look good. Styles immediately follows up with a brainbuster for a near fall.
Styles connects with an ushigoroshi for another near fall. Omos shouts some encouragement from ringside. Styles goes for the Phenomenal Forearm, but Ricochet counters with a Recoil. Ricochet is too hurt to immediately follow up. He eventually crawls over and covers for a near fall. Ricochet goes to the top rope, but Styles knocks him down. Styles goes for a suplex into the ring, but they stumble at bit. Styles then hits a front suplex onto the top rope and catches Ricochet on the rebound before connecting with a Styles Clash for the win!
Winner by Pinfall: AJ Styles
---
In-Ring: The Dirt Sheet w/ Gillberg & "Drew McIntyre"
The Miz and John Morrison put over this being their biggest show ever. They introduce Goldberg…
…but it's Gillberg. Gillberg comes to the ring and does his trademark bad Goldberg impression. WWE Champion Drew McIntyre's music hits, but it's an overweight smaller guy. "McIntyre" says he'll kick Goldberg's ass back to 1998 and eat some haggis.
The Miz eventually flips out on John Morrison and says this is embarrassing. The Miz then says it's time to bring this home. Goldberg and McIntyre will both lose at the Royal Rumble because Miz will cash in Money in the Bank. The Miz says he is next.
---
The Hurt Business (Bobby Lashley, Shelton Benjamin & Cedric Alexander) vs. Riddle & Lucha House Party
Riddle's foot is taped up from the phantom stomp earlier.
Gran Metalik starts against Cedric Alexander. Alexander immediately clubs Metalik down and sends him to the corner. Metalik boots him back and goes for a reverse Sling Blade, but Alexander blocks it. Alexander then dropkicks him down and gets in his teammates' faces. Alexander chops Metalik down and hits a backbreaker. Lince Dorado tags in, and Alexander beats him down. Alexander now goes for a tag, but his teammates won't make the tag. Dorado kicks back at Alexander and hits a springboard moonsault for a near fall.
Shelton Benjamin tags himself in, and Dorado rolls him up for a two count. Benjamin quickly clotheslines Dorado down and whips him hard into the corner. Dorado goes down hard. Benjamin covers for a near fall. Bobby Lashley tags in, and they shoulder block Dorado down. Lashley throws Dorado to the corner and punches him down. Alexander tags in, but Benjamin tags himself in. They argue. Alexander tags himself in, and Dorado hits him with a Golden Rewind. Alexander stops Dorado from making a tag. Benjamin tags in, and Alexander gets in his face. Benjamin shoves him out of the ring. MVP gets in Alexander's face.
We come back from the break to see Alexander manhandling Dorado. There is still disagreements among the Hurt Business. Dorado eventually takes Benjamin down and tags in Riddle. Riddle runs wild on Benjamin before missing a Floating Bro. Metalik tags in and runs wild. Lashley tags himself in and hits a spear before applying the Hurt Lock for the win. Lashley is furious with the infighting.
Winners by Submission: The Hurt Business
Riddle kicks Lashley from behind and runs off. The Hurt Business is not happy.
---
Backstage: Elias, Jaxson Ryker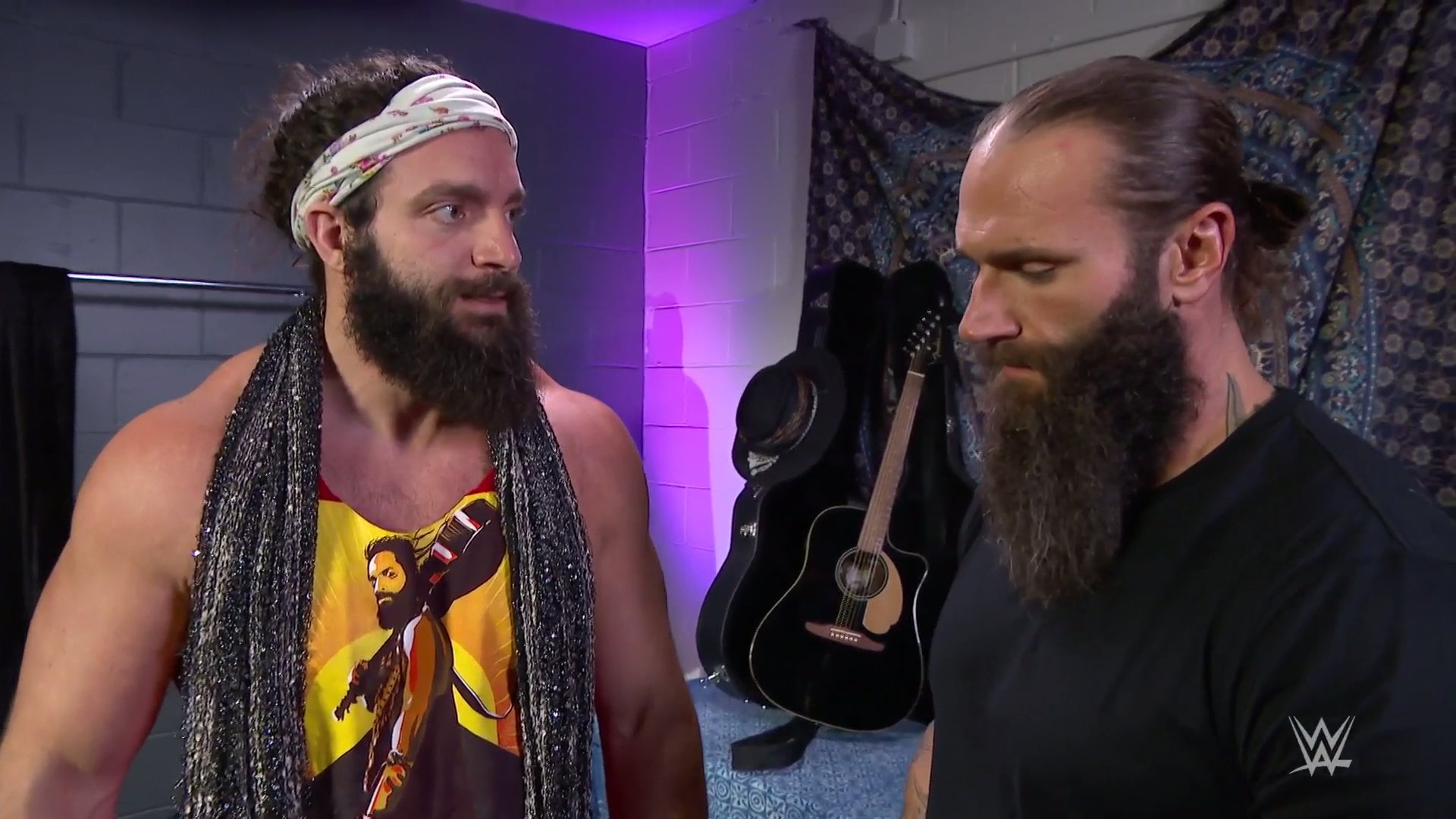 Footage is shown of Jaxson Ryker beating Jeff Hardy and then Jeff Hardy beating Elias last week on WWE Raw.
Elias berates Jaxson Ryker for not helping him in his match last week. Ryker misunderstood that he wasn't serious about not helping him in his match. Ryker will face Hardy next and show the universal truth.
---
Video: Drew McIntyre
WWE Champion Drew McIntyre is shown on a taped video from his home. McIntyre tested positive for COVID-19 last week and is under quarantine. McIntyre says WWE is like the circus with a little bit for everyone, including Gillberg and mini-McIntyre. McIntyre won't miss a title defense against Goldberg. McIntyre caught a glimpse of the real Goldberg when he shoved him on Raw Legends Night. McIntyre tells him to bring that Goldberg to the Royal Rumble. If Goldberg wants to mix it up earlier than that, he'll be on Raw next week.
---
Jeff Hardy vs. Jaxson Ryker
Hardy starts off strong against Ryker and shoulders him in the corner. Ryker quickly fights back and lays in some punches. Ryker bounces him off the corner. Hardy elbows him, but Ryker takes him down. Hardy soon takes him down and hits an inverted atomic drop. Hardy connects with a double leg drop to the midsection, a low dropkick, and a splash for a two count. Hardy hits a mule kick and splashes him in the corner. Hardy whips Ryker across the ring, but Ryker avoids an avalanche. Ryker takes Hardy down for a two count. Ryker clubs away at Hardy before punching him in the face a few times. Hardy comes back with a jawbreaker before hitting a twisting neckbreaker. That was supposed to be a Twist of Fate. Hardy goes to the top rope, but Elias knocks him off. The referee sees this and calls off the match.
Winner by Disqualification: Jeff Hardy
Jaxson Ryker is not happy. Ryker yells at Elias that he really didn't want him to interfere. Hardy baseball slides Elias. Ryker then hits Hardy with a Bossman Slam.
---
Next Week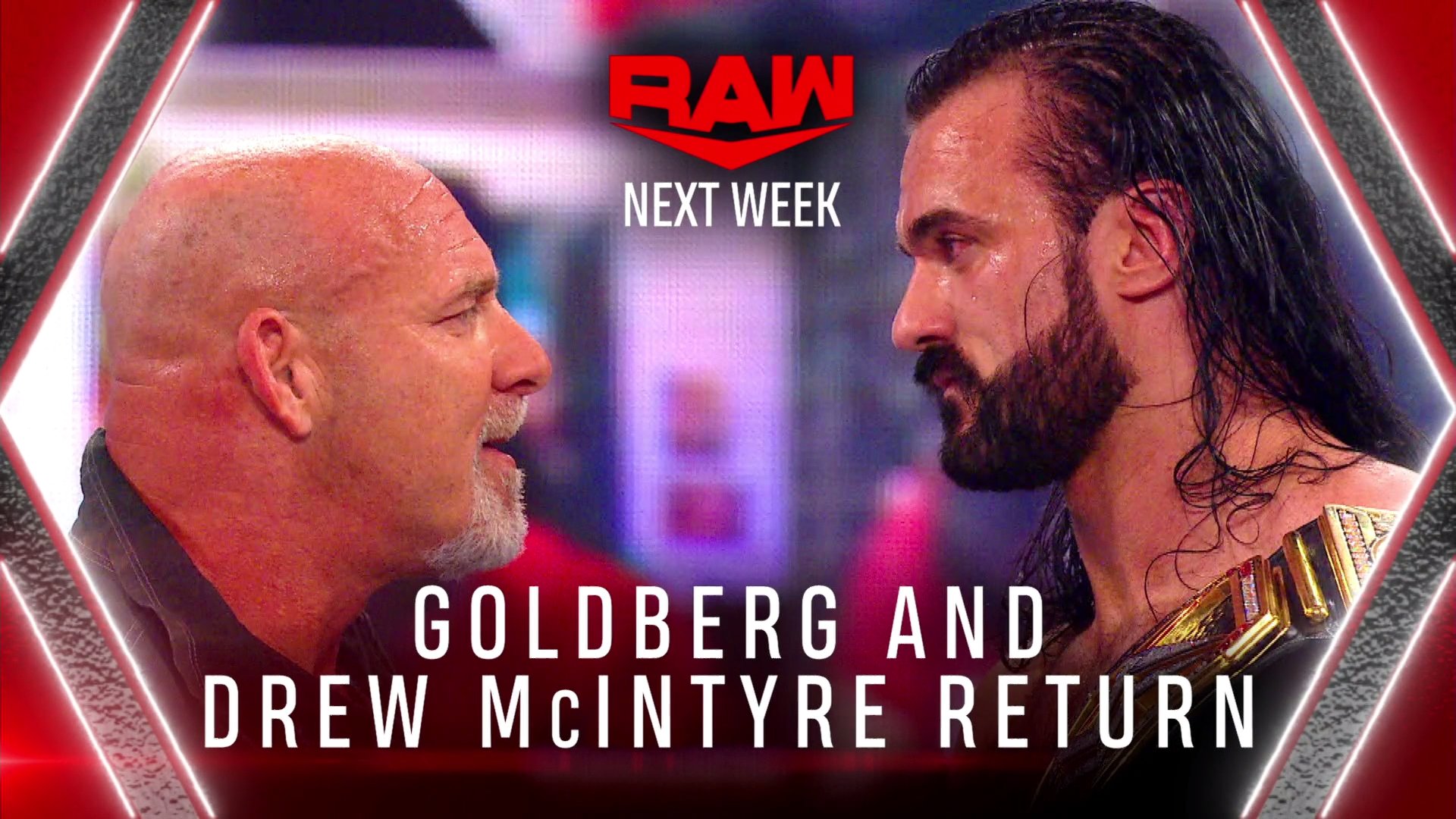 WWE Champion Drew McIntyre and Goldberg will both return next week on WWE Raw.
---
Asuka vs. Alexa Bliss
They circle the ring and lock up. Bliss applies a side headlock, but Asuka fights out and takes her down. Asuka connects with a shining wizard, but Bliss kicks out. Bliss smiles as she holds her jaw. The commentators are talking about how this could be the main event of WrestleMania… Asuka applies a modified chickenwing, but Bliss gets to the ropes to break it up. Bliss gets out of the ring to recover. Bliss avoids a baseball slide and gets in the ring.
The lights start to go out, and Bliss looks elated.
We come back from the commercial break to see Bliss has changed her outfit and wearing black lipstick. The announcers are talking in their quiet voices like she magically did this. Asuka is just standing around. Asuka throws some kicks and punches, but Bliss blocks them all. Asuka finally catches her with a kick to the midsection. Asuka hits the ropes, but Bliss shoulder blocks her down. Asuka gets out of the ring for a moment.
Asuka gets back in and hits a high knee to the face, but Bliss kicks out. Bliss slowly paces in the ring and checks her mouth. Bliss goes for the Mandible Claw, but Asuka fights it. Bliss punches her down for a near fall. Asuka fights back, but Bliss hits Sister Abigail for the win.
Winner by Pinfall: Alexa Bliss
Alexa Bliss just stares at the camera. An image flashes on the screen, and she's cleaned up and back in her old attire. The Fiend's voice is heard as she mouths, "Let me in."